Joanna Szupinska, senior curator at the California Museum of Photography at UCR ARTS, has been named a Fulbright Specialist working with curators and collection staff at Muzeum Sztuki (Museum of Art) in Łódź, Poland.
As part of the project funded by the Fulbright Commission in Poland, Szupinska will collaborate directly with museum staff as well as meet with other community members during her time in Łódź from Oct. 21 through Nov. 9.
At Muzeum Sztuki she will advise on the collection plan and consult on the museum's new oral history project "Opowiedzieć muzeum" ("Telling the Museum"). She will participate in closed-session meetings at the museum and lead a seminar for curatorial students at the University of Łódź.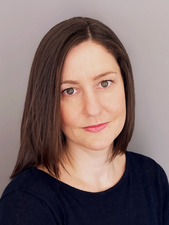 Additionally, she will attend "Under Pressure: Museums in Times of Xenophobia and Climate Emergency," a conference organized by CIMAM, the International Committee for Museums and Collections of Modern Art. The 2021 iteration of the annual conference is hosted by Muzeum Sztuki in Łódź and NOMUS Museum of New Art in Gdańsk.
"I am honored to represent UCR ARTS as a Fulbright Specialist," Szupinska said. "I look forward to developing lasting ties with Polish curators, collections specialists, and photo historians as we engage in three weeks of collaborative exchange between Muzeum Sztuki and the California Museum of Photography."
The prestigious Fulbright Specialist Program promotes relationships between US scholars and professionals and their overseas counterparts. Highly qualified US professionals are paired with host institutions to engage in intensive two- to six-week collaborative projects at host institutions around the world. 
These short project durations give Fulbright Specialists flexibility to pursue projects while fulfilling their current professional commitments. By participating in the program, academics and practitioners share their expertise, strengthen their home institutions by partnering with overseas counterparts, and learn about other cultures. Fulbright Specialists serve as expert consultants on institutional planning in their fields of expertise in over 140 countries.
To be considered for the Fulbright Specialist Program, US scholars and professionals are evaluated on their professional qualifications, cross-cultural communication skills and adaptability, and overall benefit to the partnering institutions. 
A curator at the California Museum of Photography at UCR ARTS since 2013, Szupinska has curated and co-curated numerous exhibitions, most notably "Mundos Alternos: Art and Science Fiction in the Americas," "Reproduction, Reproduction," and "Trouble with the Index." She is currently working on "Christina Fernandez: Multiple Exposures," a nationally traveling exhibition that surveys over thirty years of this important artist's work.
 
Previously at the Museum of Contemporary Art Chicago, her exhibitions included "Skyscraper: Art and Architecture Against Gravity" and "First 50." 
Szupinska's curatorial work has been supported by grants from the Getty Foundation, the Graham Foundation, and the Warhol Foundation for the Visual Arts. She is working toward a PhD in Art History at UCLA where she is writing a dissertation about the life and work of Polish photographer Zofia Rydet.