For her research excellence and science leadership, Karine Le Roch, the director of the Center for Infectious Diseases and Vector Biology and a professor of molecular, cell and systems biology at UC Riverside, has been awarded the 2021 IIGB Natasha V. Raikhel Award in Research Innovation and Science Leadership.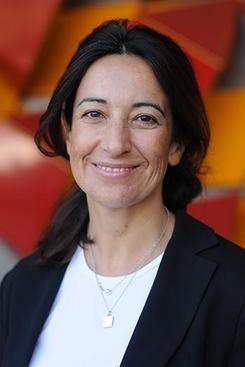 Le Roch has broad expertise in drug discovery, cell cycle regulation, epigenomics, and genomics. She is an expert on Plasmodium falciparum, the parasite that causes the deadliest form of malaria in humans. Her expertise in cellular and molecular biology techniques as well as her experience in acquiring, handling, and analyzing large genome-wide datasets has resulted in more than 100 peer-reviewed publications and proceedings, nine book chapters, and one U.S. patent. Currently, Le Roch is directing/co-directing seven active research projects funded by the National Institutes of Health and the Centers for Disease Control and Prevention. 
"I am extremely happy and grateful to have received this award," she said. "It is an absolute honor and I hope to live up to the level of success this award recognizes. I would like to thank all members of my team, including my students and post-docs, but, most importantly, my wonderful colleagues and friends I had over the years at UCR. It would not have been possible without them, as well as the constant support of my department."
The award, which recognizes a researcher every other year and is made possible by generous contributions from donors, is named after plant cell biologist Natasha Raikhel to honor her legacy as the founding director of the UCR Center for Plant Cell Biology and a former director of the Institute for Integrative Genome Biology, or IIGB. Raikhel transformed plant cell biology at UCR and brought about interdisciplinary research at the IIGB. She came to UCR in 2001 and retired in 2016.
In her long career, Raikhel made significant scientific contributions to the field of protein trafficking. She is a world-class expert in secretory trafficking, explaining the key role of the vacuole and its numerous functions essential for plant survival. Her work ranges over plant biochemistry and plant cell biology, her discoveries in these realms being relevant to plant growth and development. Early in her career, she recognized the importance of the genomic revolution to biology and pioneered the use of chemical genomics.