John Jennings, a professor of media and cultural studies at UC Riverside, has won a 2021 Hugo Award for the graphic novel adaptation of Octavia Butler's science fiction novel "Parable of the Sower."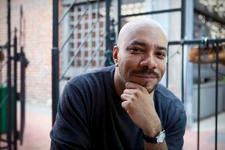 Drawn by Jennings and scripted by his longtime collaborator Damian Duffy, the adaptation won in the best graphic story category in the December awards ceremony. Presented annually since 1955, the Hugo Awards are science fiction's most prestigious award, voted on by members of the World Science Fiction Convention.
Published in 2020, the graphic novel adaptation of Butler's acclaimed post-apocalyptic 1993 novel is set in the early 2020s when global climate change and economic crises lead to social chaos.
Jennings said he's been a science fiction fan since a young age but reading Butler shifted the paradigm for him. For the first time, he saw himself reflected in a story where Black people were central to the narrative.
Jennings said he felt grateful that their work was recognized by the Hugo Awards.
"It's an honor that I am incredibly moved by, and I hope that we truly have added to Butler's legacy," he said.
"Parable of the Sower" is the second Butler adaptation by Jennings and Duffy. In 2017, the pair released "Kindred," a New York Times bestseller that earned a Bram Stoker Award and Eisner Award, a comics industry recognition.
The team are working on a follow-up, adapting Butler's 1998 sequel "Parable of the Talents."