Arturo Nevárez has won the 2022 American Educational Research Association (AERA) Division K Outstanding Dissertation Award for his dissertation, "Reading 'racial grammar': Latinx students' racial literacy development in ethnic studies classrooms to name and resist racism." Division K is dedicated to research centered on Teaching and Teacher Education and is the largest Division of AERA, the largest education research organization in North America. Nevárez earned his PhD in the Education, Society and Culture program in the School of Education at UC Riverside in 2021 and is now an assistant professor of Liberal Studies at CSU Stanislaus.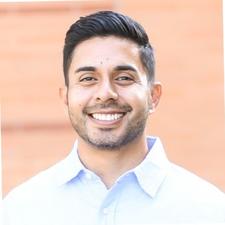 "Along with contributing to justice-centered scholarship in the field, my hope is that this research provides practical implications for teachers, teacher educators and districts to implement the type of critical, empowering education that our PK-12 students deserve and can utilize to navigate racial injustice," said Nevárez.
Nevárez explored how Latinx students in two ninth grade ethnic studies classrooms were supported in developing their racial literacies—the language and ability to uncover institutional racism and disrupt its effects. The study traced a four-stage process of racial literacy development for students and underscored how racial literacy was embodied in the pedagogies of ethnic studies teachers at the school site. The research identified the powerful role that teachers' racial literacies play in sustaining the potential of high school ethnic studies to transform race relations. His work also extended the concept of racial literacy to encompass the experiences of students in a predominantly working class Latinx and immigrant community.
"Nevárez' research is sharp, timely, and needed. By centering racial literacy in the discourse around K-12 Ethnic Studies, his work helps to flesh out its utility in the lives of Latinx students in both practical and theoretically complex ways. There is so much to be learned from his work, and I am so pleased to see it recognized by AERA in this way," said Rita Kohli, an associate professor in UCR's School of Education and Nevárez' dissertation advisor.  
The American Educational Research Association (AERA) is a national research society that strives to advance knowledge about education, to encourage scholarly inquiry related to education, and to promote the use of research to improve education and serve the public good.