A UC Riverside-led film about the challenges and successes of college students with autism has won a Gold Anthem Award in the Diversity, Equity, & Inclusion category. The film, "Autism Goes to College," was released in 2019, produced by Jan Blacher with independent filmmaker Erik Linthorst, who received a bachelor's degree in English from UC Riverside, and co-writer Jody Becker.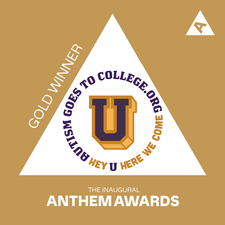 The Anthem Awards, a division of The Webby Awards, was established for purpose- and mission-driven work with community impact. The Webby Awards is the leading international awards organization honoring excellence on the Internet. 
The film follows five Southern California college students on the autism spectrum as they navigate college life, friends, and the slog toward graduation and the unknown beyond. Two students attend UC Riverside and the rest attend California State University, Long Beach, Cal State, Fullerton, and Mt. San Jacinto College. 
As increasing numbers of students with autism choose to attend college, many find that getting accepted to their school of choice is much easier than surviving and thriving in the college environment. The film shows that students with autism can succeed and be happy in college when schools direct the right kinds of attention to their unique learning styles and makes a strong case for including neurological differences in efforts to promote diversity and inclusion.
"Most colleges don't consciously think of neurodiversity as included under diversity, equity, and inclusion," said SEARCH Center director Jan Blacher, a distinguished research professor in the School of Education. "It's one thing to include it formally but another to cover it as a concept in classes and put it into practice. Neurodiversity hasn't really sunk in yet as another dimension of DEI."
"Autism Goes to College" has been shown in colleges, school districts, and film festivals around the country and has spawned a series of 12 podcasts in which neurodiverse students talk about managing college, charting their own paths, and taking creative approaches to education. 
The film, podcasts and other related projects were made possible by support from the UCR School of Education, the Vernon Eady Endowment, several foundation awards, and individual donors.