UC Riverside Chancellor Kim A. Wilcox is this year's recipient of the Chief Executive Leadership Award from the Council for the Advancement and Support of Education, or CASE, District VII. The recognition honors outstanding efforts to promote education.
Wilcox was presented with the award Tuesday, March 1 at the CASE District VII conference in San Diego, where he was a speaker on a panel.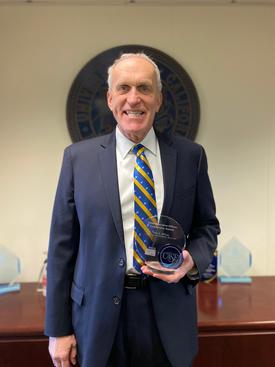 CASE is a nonprofit association dedicated to educational advancement in alumni relations, communications, development, marketing, and advancement services. District VII supports members in Arizona, California, Hawaii, Nevada and Utah.
The Chief Executive Leadership Award is given to those who create a vision, inspire others, establish a positive vision for their institution, increase innovation and risk-taking among employees, support advancement at their institution, and contribute to a greater public understanding and support of education, said Nancy Collinwood, executive director of alumni relations for Weber State University and a member of the CASE District VII cabinet.
"You embody all these wonderful characteristics, and we are pleased to honor you," she wrote in an email to Wilcox.
Accepting the award at the conference, Wilcox said the honor is a time to reflect, not only on what it means for him personally, but the organization and the people who work there and have been responsible for its transformation.
"We've got a great university and that means great people," he said. "Thanks to all of them and thanks to CASE for this recognition."
Peter Hayashida, vice chancellor emeritus for Advancement, nominated Wilcox for the award. He described the chancellor as a selfless motivator and "a natural teacher, because he's curious, a gifted storyteller, and an eternal optimist."
"Chancellor Wilcox is the kind of leader who emphasizes not achieving greatness for greatness' sake, but routinely reminds us that we're building an exceptional university for noble reasons," Hayashida said.
He noted that Wilcox was a first-generation college graduate himself and works to ensure that students — whether first-generation, low-income, minority, or others from marginalized groups — have access to the same educational opportunities as those at other leading research institutions.
"He regularly challenges us not to get stuck focusing on what we don't have, but to leverage our distinctive resources to innovate in growing success among all groups of students at UCR," Hayashida said.