Dana Glenn, a fifth-year doctoral student in developmental psychology, has received the Ruth L. Kirschstein National Research Service Award Individual Predoctoral Fellowship from the National Institute of Mental Health. The award aims to "enable promising predoctoral students with potential to develop into productive, independent research scientists, to obtain mentored research training while conducting dissertation research."
The nearly $61,500 fellowship, which covers a period slightly over a year, will support Glenn's study titled "The impact of social evaluation on perception of facial affect in adults with social anxiety." The fellowship will cover Glenn's graduate stipend, freeing up her time to focus on conducting and disseminating this research.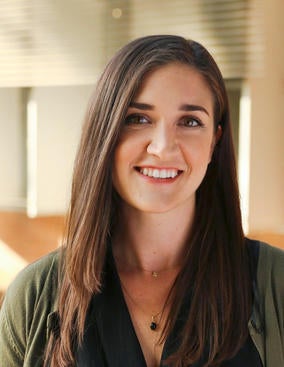 Glenn explained that people with social anxiety often interpret ambiguous emotions as threatening, which may cause them to avoid social situations and further reinforce feelings of anxiety. 
"The study will test whether people with social anxiety perceive emotional faces differently than non-anxious people, and whether perceptual differences can be increased or reduced by eliciting short-term changes in feelings of anxiety," she said. "This is important because social anxiety is one of the most common and impairing mental health issues in the U.S. and, for many, these symptoms may have been exacerbated by isolation during the COVID-19 pandemic."
Kalina Michalska, an assistant professor of psychology and Glenn's graduate advisor, noted that Glenn's research questions and methods powerfully synthesize ideas from developmental psychology, clinical psychology, and cognitive neuroscience. 
"Dana has conducted multiple original lines of research, using sophisticated neuroimaging and psychophysiological methods to test important questions about the development of anxiety," Michalska said. "These methods are highly complex and require self-directed learning of new skills and perseverance in the face of challenges, which Dana has expertly mastered throughout her graduate career. Dana already has an impressive track record of high-quality research, and thanks to this award, her future impact will be even greater."
Besides Michalska, Glenn will work with Daniel Pine at the National Institute of Mental Health, Megan Peters at UC Irvine, and Aaron Seitz at UCR. All of them will advise and train Glenn on various aspects of the project.
Glenn is the recipient of other awards, including the UCR Department of Psychology's Rising Star Award in 2020 and the Dissertation Year Program Fellowship in 2021. She received her bachelor's degree in psychology and anthropology from Washington University in St. Louis in 2012. Subsequently, she worked at the University of Chicago, where she examined how environmental input and neurological characteristics influence cognition in children with early brain injury.