Andrew Huang, a biomedical sciences graduate student at UC Riverside, has been awarded a one-year American Epilepsy Society Predoctoral Research Fellowship. 
The $30,000 award includes $1,000 for Huang to use as travel funds to attend the annual meeting of the American Epilepsy Society in December 2022. He will also receive a complimentary membership to the society for a year, giving him access to online education content as well as professional development resources.
Viji Santhakumar, an associate professor of molecular, cell and systems biology and Huang's advisor, said the award is highly competitive and her lab is "super proud" of Huang's accomplishment.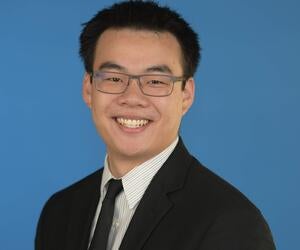 "Andrew's passion for understanding complex neural circuits and his broader interest in clinically relevant research drive him toward understanding how epilepsy disrupts brain function," she said. "With his intellect and work ethic, I expect many more accomplishments from him."
Huang said receiving the fellowship has further motivated him to pursue epilepsy-related research. He explained that temporal lobe epilepsy represents 60% of all epilepsy cases. Embedded deep into the temporal lobe is a complex brain structure called the hippocampus, which has a major role in learning and memory. In addition to seizures, memory problems are among the key issues affecting people with epilepsy.
"Patients often exhibit memory and cognitive deficits resulting from localization to the hippocampus, the main memory processing center," he said. "Within the hippocampus is the dentate gyrus, which filters and discriminates neural codes through a process called pattern separation. This process becomes corrupted in epilepsy, however, leading patients to confuse similar memories."
Using experimental and computational analysis of the dentate circuit, Huang plans to elucidate the cellular and circuit players in pattern separation and how this is perturbed in epilepsy.
Huang graduated from UCR in 2017 with a bachelor's degree in neuroscience. He expects to receive his doctoral degree in biomedical sciences in 2025.
The American Epilepsy Society is a community of professionals engaged in the understanding, diagnosis, study, prevention, treatment, and cure of epilepsy. Its predoctoral research fellowships support students who are pursuing dissertation research with an epilepsy-relevant theme and working under the guidance of a mentor with expertise in epilepsy research.