John Martin Fischer, a distinguished professor of philosophy at UC Riverside, has been invited to deliver the 18th Annual Harvard Review of Philosophy Lecture.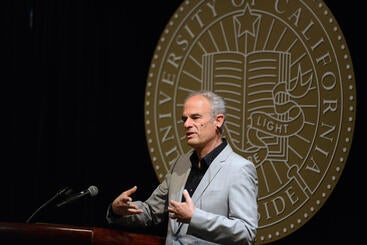 Hosted by the philosophy journal and Harvard University's Department of Philosophy, the lecture series has featured top scholars in the field of philosophy. Fischer is scheduled to speak at the campus on Oct. 7.
"I'm honored and humbled to have been selected," Fischer said. "The previous lecturers are very distinguished, and the Harvard Philosophy Department is historically (and now) one of the very best.  I am particularly gratified to have been selected by the undergraduate co-editors of their philosophy journal on the basis of publications of mine they have found insightful."
Fischer is a world-leading expert on free will and moral responsibility, as well as immortality and near-death experiences.
The journal will be dedicating its annual issue to free will and selected Fischer as the editorial staff considered his work crucial in understanding the topic.
Fischer said he plans to speak about an overall theory of moral responsibility that he has developed over the course of his career.
"A new form of 'moral responsibility skepticism' has been influential in recent years--the last decade or so--and I will address it in this lecture," he said. "Although this new view contains insights, especially about the horrible conditions in our prisons and penal institutions in general, it is ultimately a very implausible--and even disturbing--doctrine, because moral responsibility is such a central and important part of human life. "