What are the relationships between HIV infection and neurocognitive decline in people aging with HIV? A research team led by Aaron Seitz, a professor of psychology at UC Riverside, is set to find out.
Seitz is the principal investigator of a nearly $389,000 "supplement" — new funding requested for an existing grant — from the National Institute of Aging, or NIA, one of the divisions of the National Institutes of Health. The original NIA grant, funded in May 2021, is titled "How LC Integrity in Older Adults Mediates Perceptual and Memory Processes."
The locus coeruleus, or LC, is a small nucleus located in the brainstem that plays a central role in many key functions, including perception, arousal, attention, stress, learning, and memory.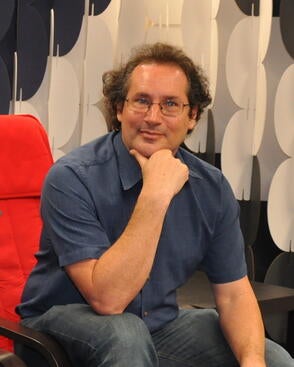 "In the case of HIV-associated neurocognitive disorders, there is evidence the LC may play an important role," said Seitz, who directs the UCR Brain Game Center for Mental Fitness and Well-Being. "The NIA supplement will allow us to offer an important and much-needed understanding of how LC integrity underlies cognitive declines in older adults, including people living with HIV."
According to Seitz, research is largely lacking in both characterizing differential effects of LC integrity and detailing relationships between LC integrity and cognitive function in older adults. 
"There is even less information on how the LC ages in people living with HIV," he said.
Age-related HIV-associated neurocognitive deficits are associated with premature brain aging. Half of the people living with HIV in the United States are more than 50 years old. Riverside County is home to one of the largest communities of people living with HIV.
Seitz explained that the LC has been difficult for researchers to image due to its small size. Most research, therefore, only makes inferences about LC function. To circumvent this difficulty, Seitz and his team will use MRI-based methods to identify biomarkers of LC circuit integrity.
Seitz will be joined in the study by Xiaoping Hu, Ilana Bennett, and Weiwei Zhang of UCR; Megan Peters of UC Irvine; and Jeff Taylor of the HIV & Aging Research Project – Palm Springs, a community-based project. The research team will also work with the UC San Diego HIV Neurobehavioral Research Program.
The supplement technically provides funding for a year but can be used through the duration of the larger five-year grant. 
"Our plan is to start recruiting participants in January 2023 for the new research project," Seitz said. "We would like to get a foundational dataset ready that will help us understand neurodegeneration in relationship to cognition in people aging with HIV and how this neurodegeneration compares to people who are aging without HIV."