A UC Riverside graduate student has been recognized for their work and research on domestic violence.
The American Association of University Women awarded an American Dissertation Fellowship to Romina Garcia, a doctoral student in ethnic studies at UC Riverside. AAUW is one of the world's oldest supporters of graduate women's education. The fellowship comes with a $20,000 award.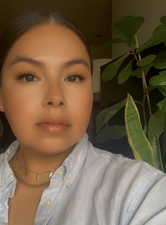 Garcia's research is grounded in the experiences of women of color, specifically centering the experiences of Black women within the context of domestic violence. Garcia examines how non-profit advocacy services and the law respond when race, gender, and sexuality are centered, including more broad conceptualizations of violence and abuse within a system bound by patriarchal white settler colonialism.
"My research and work came from a place of experience," said Garcia, who is a domestic violence survivor. "As Black Feminist Thought has taught us, schools and books can't always and won't always give us all the tools — our lived experiences are equally radical and can inspire change."
In December 2018, Garcia co-founded the Critical Anti-violence Research and Action (CARA) initiative at UCR alongside two faculty members to critically engage and address gendered violence that is both interpersonal and institutional. The project and the organization are now graduate student-led. This initiative cultivates research to support those who identify as women who have survived domestic violence and sexual assault.
While living in Chicago, Garcia worked at a crisis center, shelter, and eventually became a court advocate. Shaped by these experiences and flaws in the system, Garcia decided to study how conditions could be improved.
One in three women will experience domestic violence, according to the National Domestic Violence Hotline. Institutions such as law enforcement, advocacy services, and shelters are entrusted with addressing violence against women, but often create and perpetuate racialized gender violence, Garcia said. Garcia's goal is to eradicate this cycle.
Garcia advises students who are interested in this topic or others to pursue them.
"This area of study and all others in my opinion are starved for new perspectives and approaches," Garcia said. "Be critical of your own positionality and lived experiences and start there."
The AAUW fellowship allows Garcia to fully delve into the research, unencumbered by financial constraints. In addition to monetary benefits, AAUW provides a space and community for those who identify as women in graduate studies.
"Grad school is a lonely place at times, and it is definitely gendered, so to have this space available is special and equally inspiring," said Garcia.
Those interested in participating in this work can contact Garcia via email at: rgarc061@ucr.edu