Rodolfo Torres, UC Riverside vice chancellor for Research and Economic Development, has been named Educator of the Year by the Inland Empire Economic Partnership.
The group praised Torres "for his leadership and partnership with the employer community focused on the creation of research and technology deployment to support a more sustainable supply chain."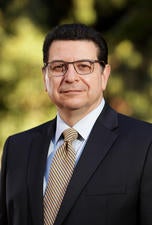 Torres is one of seven honorees for 2022 chosen by the group's board who will be recognized at its annual dinner on Jan. 12 in Ontario.
"I feel honored by this award, but more importantly I hope it helps further reinforce our relationship with the IEEP community," Torres said.
The Inland Empire Economic Partnership is a nonprofit organization that works with businesses and government in Riverside and San Bernardino counties in support of job creation, leadership infrastructure, and regional advocacy.