Elena Kozlova, a graduate student in the Neuroscience Graduate Program, has received a Ruth L. Kirschstein National Research Service Award Individual Predoctoral Fellowship that will help her obtain mentored research training while conducting dissertation research.
The 18-month $58,000 fellowship, which enables promising predoctoral students with potential to develop into productive, independent research scientists, will support Kozlova's project titled "Maternal Transfer of Oxytocin and Thyroid-disrupting Indoor Flame Retardants Affecting Offspring Social Brain." The National Institute of Environmental Health Sciences of the National Institutes of Health, or NIH, funded the award.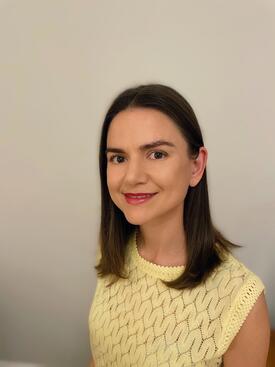 The project, conducted under the guidance of Margarita Curras-Collazo, a professor of neuroscience in the Department of Molecular, Cell and Systems Biology, will examine whether indoor flame retardant toxicants called polybrominated diphenyl ethers, or PBDEs, can interfere with normal development in brain regions that are used for social communication. PBDEs are found in the bodies of nearly all Americans and can be transferred from mother to child.
"PBDEs are endocrine-disrupting chemicals and may perturb thyroid hormones responsible for growth and brain development," Kozlova said. "Additionally, altered thyroid status may have an impact on oxytocin, a hormone used in social communication."
Curras-Collazo explained that Kozlova's funded research will allow her to probe for underlying mechanisms that could help ameliorate the effects of PBDEs or similar bioactive pollutants in the future. 
"This will require acquisition of new complex skills and the ability to bridge several disciplines," she said. "These are tasks that the NIH reviewers and Elena's mentoring team feel she is very capable of accomplishing."
The neurodevelopmental disorder autism spectrum disorder currently affects 1 in 54 U.S. children and is characterized by altered social communication. The Curras-Collazo lab and other teams have shown that early life exposure to PBDEs can manifest later as deficient social recognition ability and other autistic-like traits. 
"The proposed research funded by this award will allow me to examine PBDEs' possible mechanisms of action occurring during the critical time of brain development," Kozlova said.
  
Curras-Collazo believes Kozlova's findings can provide critical information about early postnatal events during brain development that can be disrupted by maternal transfer of PBDEs. 
"It is important to understand how environmental exposures to bioactive and endocrine/hormone-disrupting chemical pollutants may contribute to neurodevelopmental disorders such as autism," she said.
The fellowship will cover Kozlova's stipend, allowing her to focus on conducting research in the lab. The training includes her research presentations at conferences and attendance to professional development workshops.
"In my time in the UCR Neuroscience Graduate Program, I have been given the opportunity to gain experience in a variety of techniques," Kozlova said. "However, I am not yet technically familiar with all methods proposed and, therefore, I see this fellowship as an opportunity to reach a higher level of training. This fellowship will specifically allow me to acquire training in several powerful state-of-the-art techniques new to me such as in vivo chemogenetic manipulation, in vivo circuit tracing, and single molecule fluorescent hybridization."
In addition to Curras-Collazo, Kozlova will work with Martin M. Riccomagno, Frances Sladek, Ansel Hsiao, and Daniel Schlenk of UCR; and Meri DeAngelis of the German Research Center for Environmental Health.
"The greatest strength and value of the training plan for my professional development lies in the benefit I will receive from the guidance of this great team of experts that we have carefully assembled," Kozlova said. "As a more experienced student with a well-developed plan for my doctoral research, I will leverage the invaluable training opportunities their expertise will provide and actively seek guidance to improve myself as a scientist."
Kozlova received her bachelor's degree in neuroscience from UCR after transferring from Foothill Community College. Recently, she received grants from Danone North America and Syngenta, a science-based agtech company, to help conduct her research.