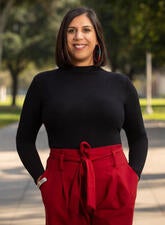 The American Educational Research Association will honor UCR associate professor Rita Kohli for a book she published in 2021 about the challenges and triumphs of teachers of color. 
In "Teachers of Color Resisting Racism and Reclaiming Education," Kohli documents many personal and emotional accounts of racism and professional isolation experienced by Black, Latino, Asian American, Indigenous, and multiracial teachers in public schools. It was published by the Harvard Education Press.
Among other issues, the book details how teachers of color resist racism for and with minoritized students, when other teachers and administrators do not.
"Teachers of color are more likely to see students of color as capable learners, understand the racialized experiences students face, and stand as their supporters and advocates. So, students of color (and all students) benefit from the presence of teachers of color," Kohli said in a UCR News interview posted when the book was published.
Kohli will be awarded the AERA Division K's 2023 Exemplary Research in Teaching and Teacher Education Award at the group's annual meeting on April 15 in Chicago.
A former middle school teacher, Kohli has been a professor in UCR's School of Education since 2014. Her research focuses on how race, power, and inequities intersect in K-12 schools and teacher education programs. She is the co-founder and co-director of the Institute for Teachers of Color Committed to Racial Justice, which offers professional development opportunities to facilitate the retention, racial literacy growth, and racial justice leadership of teachers of color in K-12 public schools.