UC Riverside bioengineering professor Giulia Palermo has won a prestigious 2023 Sloan Research Fellowship to support her work in computational bioengineering.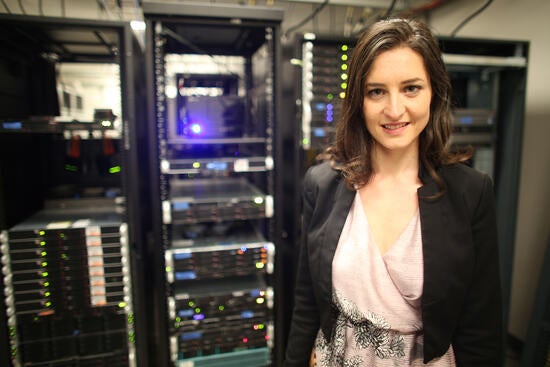 Awarded by the New York-based Alfred P. Sloan Foundation, the fellowship comes with $75,000 that she can use flexibly over two years to advance her research. Palermo leads a computational bioengineering group that conducts biophysical studies of gene editing tools. 
Sloan fellowships support the work of early-career scholars doing the most promising scientific research of the day. 
"Sloan Research fellows are shining examples of innovative and impactful research," said Adam F. Falk, president of the Alfred P. Sloan Foundation. "We are thrilled to support their groundbreaking work and we look forward to following their continued success."
Palermo's research group uses computer simulations to study new genome editing systems that are transforming life sciences. This research interfaces computational biophysics with structural biology, chemistry, and biochemistry to clarify the mechanistic action of biological systems of key importance, emerging genome editing technologies, and directed evolution strategies. 
A native of Italy, Palermo earned her Ph.D. in 2013 from the Italian Institute of Technology, working in the group of Marco De Vivo. She served as a postdoctoral scientist at the Swiss Federal Institute of Technology Lausanne (EPFL) for two years. In 2016, she was awarded a Swiss National Science Foundation post-doctoral fellowship to conduct research at UC San Diego, where she specialized in novel multiscale methods enabling the study of increasingly realistic biological systems. 
Palermo joined UCR's faculty in 2018.