UC Riverside Professor Soojin Park has won a National Science Foundation grant to develop methods to identify risk factors that lead to social disparities.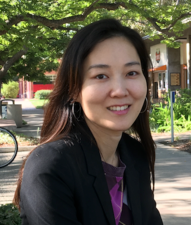 Park, an assistant professor of quantitative methods at the School of Education, is the principal investigator for the three-year $273,587 grant. She was notified of the award earlier this month.
The proposal examines the impact of wealth in contributing to social disparities, including by race/ethnicity, gender, sexual orientation, or other factors. Using the developed methods, results from the study could inform what sort of interventions are effective in reducing disparities.
"This grant represents a critical step in my research trajectory to develop innovative methods and collaborate with established methodologists as well as substantive experts in the fields of sociology and psychology," Park said. 
Chioun Lee, an assistant professor of sociology, and Rachel Wu, an associate professor of psychology, are collaborating with her on the project.
Park has been a UCR faculty member since 2016. Her research focuses on developing and validating quantitative methods for causal inference, which she uses to investigate the factors contributing to racial and gendered disparities in educational and health outcomes.