A research paper authored by Morris Maduro, a professor of molecular, cell and systems biology, and his colleagues was named one of four finalists by the journal Development for its inaugural "Outstanding paper prize" for papers it published last year. The journal published 350 research papers in 2022.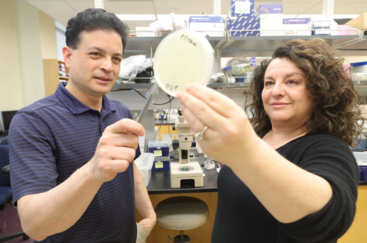 The paper, titled "The GATA factor ELT-3 specifies endoderm in Caenorhabditis angaria in an ancestral gene network," explored how nematodes distantly related to the best-studied one, Caenorhabditis elegans, make their gut. The researchers found a simple gene network was involved in specifying the gut in nematodes distantly related to C. elegans. 
"Endoderm" in the title of the paper refers to the innermost layer of cells or tissue of an embryo in early development. In nematodes, the endoderm consists of the midgut, or intestine. One of the reviewers of the paper wrote: "Endoderm specification is fundamental to animal development and its specification is at the heart of developmental gene networks. As such, it provides a superb opportunity to study the evolution of development, including of gene regulatory networks. This is textbook stuff!"
Maduro, currently the chair of the Department of Molecular, Cell and Systems Biology, has studied C. elegans and other nematodes for more than two decades. His interest in the study published in Development began when he and his wife (and coauthor), Gina Broitman-Maduro, found that gut-specifying genes found in C. elegans were missing in most other nematodes, leaving them wondering how the intestine gets made in these nematodes.