UC Riverside Chancellor Kim A. Wilcox has been honored by the American Council on Education, or ACE, for his mentorship of future higher education leaders. 
Wilcox is the recipient of the 2023 ACE Council of Fellows/Fidelity Investments Mentor Award, presented annually to acknowledge the substantial role of mentors in the success of the ACE Fellows Program participants. The award recognizes higher education leaders' contributions to enhancing the diversity and capacity of future leaders. Nominations are solicited from former fellows.
He was presented with the award at ACE's annual meeting in Washington, D.C., during a luncheon ceremony Friday, April 14.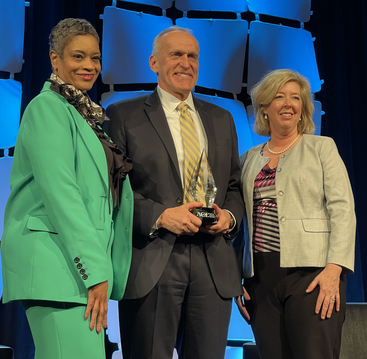 "Chancellor Wilcox's former mentees have for good reason described him as an inspirational mentor and generous leader deeply committed to higher education," said Juanita Banks, director of the ACE Fellows Program. "As a Fellows Program alum, he is an exemplary mentor who is intentional in his support of the ACE Fellows Program, and steadfastly committed to uplifting future higher education leaders."
Wilcox, a former fellow himself, said mentorship is its own reward for him, saying he found his experience as a mentee in 1996-97 valuable. He said it was energizing to work as a mentor to a new group of leaders.
"I am grateful to my mentees for this meaningful honor but also for the experience of working with them," Wilcox said. "As an ACE Fellow, I gained critical knowledge and skills that serve me to this day. Serving as a mentor allows me to give back in part what I have received."
Wilcox has mentored four fellows: Elizabeth Heise, assistant vice provost for faculty affairs at University of Texas, Arlington; Audrey Bilger, president of Reed College in Portland, Ore.; Stephan Walk, professor and chair of the department of kinesiology at California State University, Fullerton; and Yuqing Melanie Wu, vice president for academic affairs and dean at Pomona College in Claremont.
Sangeeta Moorjani, executive vice president at Fidelity Investments, which supports the ACE Fellows Program, lauded Wilcox's leadership and accomplishments.
"The resounding praise we have heard from his mentees, both of his uplifting demeanor and his commitment to pushing the boundaries in higher education, make him an incredibly worthy recipient of the Council of Fellows Mentor Award," Moorjani said.