The Electron-Ion Collider Center at the U.S. Department of Energy's Thomas Jefferson National Accelerator Facility has awarded a research fellowship to Sebouh Paul, a postdoctoral researcher in the UCR Department of Physics and Astronomy. The one-year, $36,000 fellowship will allow Paul to further research of the Electron-Ion Collider, or EIC, a unique physics research facility dedicated to answering fundamental questions about nature's building blocks.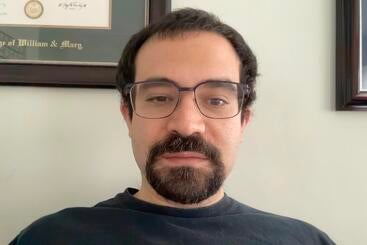 The EIC Center at Jefferson Lab, or JLab, awards annual, one-year fellowships to support the nuclear physics research that will be pursued with the collider being built at Brookhaven National Laboratory in Upton, Long Island. The fellowships help support early-career scientists in their quest to uncover the secrets behind the invisible webbing of our universe. This year's awardees — Paul and five others — will work to advance the theory, development of the instruments, and design of future experiments to help maximize the EIC's potential.
A main goal of the EIC is to explore the 3D structure of the proton. The collider will also provide other insights into nuclei and the interactions between the particles they contain. Paul explained that the EIC is a future machine being designed to bring electrons and ions up to almost the speed of light and colliding them with one another. An array of particle detectors will surround the interaction point and detect particles produced in the reactions, which can help physicists understand what goes on inside nuclei, he said. 
"This fellowship will support the design of one of the particle detectors in the array, HG-CALI, which will specifically look for particles at very small angles relative to the ion beam," said Paul, who belongs to the research group of Miguel Arratia, an assistant professor of physics and astronomy.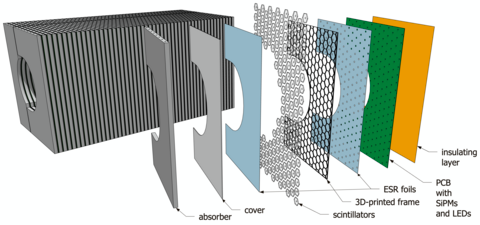 Paul will use funding from the fellowship to present his work at the EIC Users Group Meeting in Warsaw, Poland, this summer. This work involves testing the performance of the HG-CALI prototype in an experimental hall at JLab. A beam of electrons will strike a liquid hydrogen target at the center of the hall. The prototype will detect scattered electrons and other particles produced by the interactions between the beam and the target. He will be joined in this effort by a group of UCR undergraduate and graduate students.
"The purpose of these tests is to validate our design, learn anything we can about how to improve upon it in future iterations, and help us converge upon a final design to be used in the EIC," Paul said.
Paul said he is excited the fellowship offers him also an opportunity to demonstrate administrative skills and have hand-on experience with detector design and testing. 
"It allows me to provide leadership and mentoring to graduate and undergraduate students who are assisting me in the beam-test project," he said.