Rosibel Ochoa, UCR's associate vice chancellor for technology partnerships, has been named Female Entrepreneurial Leader of the Year by the Accreditation Council for Entrepreneurial and Engaged Universities, or ACEEU.
Ochoa was honored by the international organization in a recent ceremony in Barcelona, Spain, for the group's Triple E Awards. These accolades recognize higher education leaders for their engagements and collaborations in higher education that drive innovation, entrepreneurship, and societal improvements. She was recognized for her work in the Inland Empire and beyond that has elevated women and disadvantaged communities.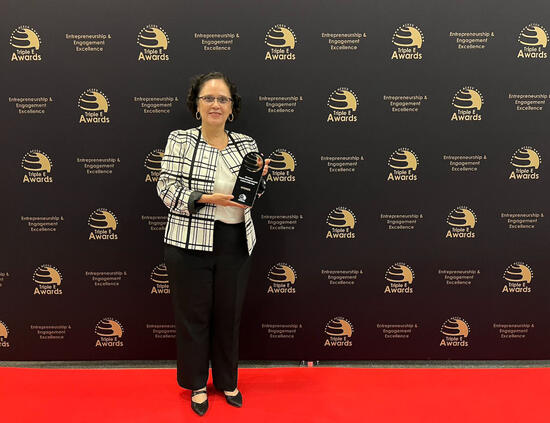 "I use technology innovation and entrepreneurship as agents of change, and help communities positively reimagine themselves as stakeholders with the capacity and talent to drive economic prosperity," Ochoa wrote in a summary statement provided to ACEEU.
Ochoa has overcome regional challenges, including government underinvestment, lack of good job opportunities, and climate impacts to "built a culture of innovation, entrepreneurship, and dynamic tech startup creation" at UCR and in the surrounding community, her statement said.  Click here for her full statement. 
For seven years, Ochoa has overseen technology transfer, industry contracts, and entrepreneurial programs at UCR. She has helped secure more than $21 Million to support and grow entrepreneurial and innovation programs in Inland Southern California. Among other roles, she was the program director for the National Science Foundation I-Corps Site, a training program that prepares scientists and engineers to extend their focus beyond the laboratory to move toward commercialization.
She is also the project director for the Opportunity to Advance Sustainability Innovation and Social Inclusion Accelerator, known as the OASIS Accelerator, which provides support to UCR and community entrepreneurs to help bring their innovations to the marketplace.
She was previously the senior executive director for entrepreneurism and leadership programs at the Jacobs School of Engineering at UC San Diego and Executive Director of the Von Liebig Entrepreneurism Center.