The smell of turkey, mashed potatoes, vegetables, and pumpkin pie was infused with the laughter and the myriad of languages in the room.   
On Monday, Nov. 19, UC Riverside students and scholars gathered for the third annual Thanksgiving event sponsored by International Affairs. The event provides a space and an opportunity for them to share a meal, make new friends, and interact with other international visitors outside of the labs and the classrooms, said Shanon Langlie, International Affairs director of marketing and communications. 
"UCR is their home away from home. Thanksgiving is a really short break and many can't travel back to their home countries, so this is an opportunity to connect with others who are here in a similar situation," Langlie said.   
This year, the event brought together 350 people, including some of the scholars' families, a jump in attendance from last year's 180 guests. The dinner, served at the Highlander Union Building, included the traditional turkey, mashed potatoes, and cranberry sauce, as well as vegetarian options.
"It was a great way for international students who have only seen Thanksgiving dinner on television to actually see what it was all about. For some of us, this was a gateway into the food culture of America," said David Asplund, an undergraduate anthropology major from Sweden. 
Other students included Gianluca Bianchin, 28, a mechanical engineering graduate student from Italy; Mahdi Qezlou, 23, a physics and astronomy graduate student from Iran; and Zhexing Li, 25, an earth and planetary sciences graduate student from China. All sat in neighboring tables, enjoying the food, talking about their classes and research projects. 
At another table was Lijun Fu, 43, a Chinese visiting scholar with the Department of Cell Biology and Neuroscience. Next to her was her 17-year-old daughter, Weijia Fu. Both laughed and chatted about how much they like the campus, and how they are learning more about "American food."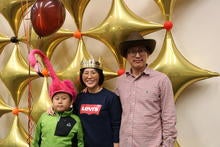 Sharing the table with Fu was Jin-Zheng Wang, 37, his wife, Haiyan Ke, 38, and their 7-year-old son, Siwei Wang. Experiencing life, culture, and finding new friends has been a gratifying experience, Ke said.
"UCR is a top-level scientific research institution and I'm here because of it. I want to be trained here," Wang said.  
When these international students attend colleges and universities within the United States, their impact also becomes an economic driver, according to Open Doors, a report published annually by the Institute of International Education with support from the United States Department of State's Bureau of Educational and Cultural Affairs.
According to the NAFSA: Association of International Educators, a non-profit organization based in Washington, D.C., international students at UCR contribute $84.8 million to the local economy, supporting 1,174 jobs. UCR records indicate that more than 1,700 international graduate and undergraduate students are on campus.
According to NAFSA, California has nearly 162,000 international students enrolled, who together make a $6.6 billion financial contribution to the state.  
Welcoming international students and scholars to UCR supports the university's mission, said Kelechi Kalu, vice provost of International Affairs. He said the diversity and the academic rigor they bring is of great impact to the campus.
The key to a successful program is treating people with humanity and making them feel welcomed, he said. 
"I don't just want to recruit students," Kalu said. "We are building a community where international students and scholars can thrive as vibrant members of UC Riverside. And how do you build a community? You build it by being intentional, inclusive, open and willing to learn and share. We are intentionally providing a solid infrastructure where our students can be successful at UCR and beyond."