Seated in front of UC Riverside's signature UCR sign at the HUB Plaza, doctoral student Amena Sadat was dressed in a cream-colored and gold embroidered shalwar kameez on a sunny spring afternoon.
The traditional dress was a reminder of the harrowing journey she took from her native Afghanistan to pursue her dreams of attaining higher education. 
It was the only possession Sadat was allowed to take when she fled Afghanistan in August 2021 after the Taliban took over the country. Due to a bombing near the Kabul airport earlier that week, Sadat and others seeking to escape were told they had to leave behind any bags.
Sadat, who is in her early 30s, left behind her backpack of belongings and clasped her shalwar kameez in her hands as she waited for four days, staying in line so as not to lose her place before she and others were flown out to an American military base in Kuwait.
She arrived alone in the United States shortly after, uncertain of what would happen to her.
A little over a year later, Sadat enrolled at UCR in fall 2022 as a doctoral student in political science.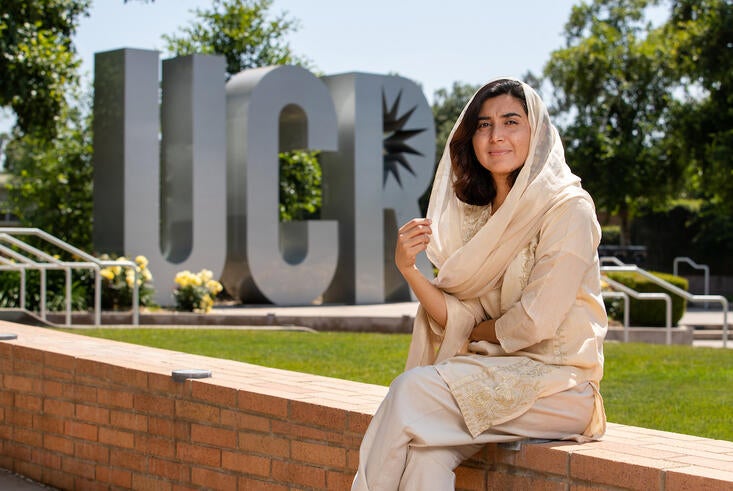 As she completed her first academic year, Sadat said she finally feels free to study, after years of challenges in pursuing her education in Afghanistan and Pakistan, where she faced death threats and interruptions in her schooling.
"All of my worries are gone," she said. "I'm only concentrating on my studies here. It's a really positive thing."
Childhood in refugee camps
It wasn't an easy journey for Sadat. 
Her family fled Afghanistan shortly after the 1979 Russian invasion to neighboring Pakistan, living in refugee campus. She was born a decade later as her family moved back and forth between the two countries as she grew up, returning to Afghanistan when her father found work there.
Sadat attended an international school at a camp in the Pakistani city of Peshawar. When she returned to Afghanistan at age 12, she faced pressure not to continue her education. But her parents allowed her to go back to Pakistan, staying with her grandmother, where she graduated in 2009 with a high school equivalent diploma.
"Most of my Pakistani friends were going to university but I had no idea how (to get in)," she said. "I had a desire for an education but I couldn't go to school because I wasn't familiar with this idea."
Instead, Sadat volunteered with a nongovernmental organization that worked with children in refugee camps. She picked up English through her work and by watching YouTube videos. That knowledge later helped her get a job in Afghanistan as an interpreter for a media company making a documentary about maternity hospitals in Kabul. But Sadat said she quit when her family started receiving threats from the Taliban.
Fighting to study
Sadat decided to go to college, applying for a scholarship in Afghanistan with plans to study English or philosophy. But she faced resistance from family members who urged her to pick a subject they deemed more suitable to women, such as nursing or medicine. A second cousin who was a local politician canceled a scholarship for women she applied for rather than award one to her, Sadat said.
"I decided to go on my own and get admission from the University of Peshawar to complete my education," she said.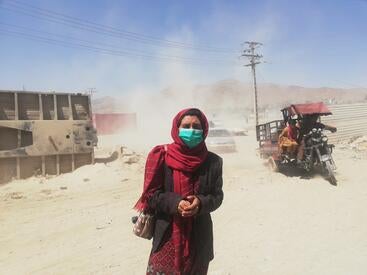 Sadat completed a two-year bachelor's degree in political science and law, the only major available to her. She struggled at first but became more interested as the classes delved into international relations. She studied foreign policy analyses, strategic politics, and relationships between different countries.
"I enjoyed learning how all these blocs and superpowers related during the Cold War era, World War I, and World War II, and how the United Nations works," she said.
Sadat had to fight to stay in school. The university charged triple the fees for foreign students, which she could not afford. Sadat pleaded her case and as a result the university introduced a new program for refugee students like herself.
Sadat won a scholarship and fellowship, with plans to go to the U.S. for a conference but her studies were disrupted in 2021. She had to return to Afghanistan to renew her visa and passport but could not leave due to the upheaval when U.S. troops pulled out of the country and the Taliban took over.
Escaping Afghanistan
"I was trying my best to get out," Sadat said. "I was sitting at my home and I could listen to gunfire nearby."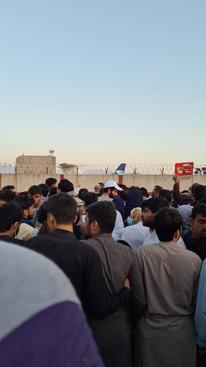 Many of her neighbors began to flee, some leaving their homes without even bothering to close their doors or take most of their possessions.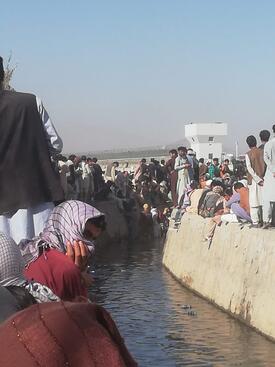 Sadat learned about a nonprofit organization Glocally Connected, now known as the Human Migration Institute, helping those seeking to flee the country. 
Selin Nielsen, president of the Human Migration Institute, said Sadat was among about 100 people the organization helped evacuate at the time. Far from straightforward, Nielsen said the undertaking included a couple of failed attempts in a chaotic environment where it was difficult to arrange their transportation to the airport and find safe places to meet.
It was that same week that a suicide bombing took place outside one of the main gates of the Kabul airport, leaving most entries closed. The only way in was through a small gate that required walking through a trench filled with water.
Sadat became the main contact person with Nielsen and a group of a dozen other refugees because she spoke English. Sadat helped relay instructions from Nielsen and kept her updated on the group's progress, helping lead her fellow refugees to the airport where their names had been added to a flight manifest list, Nielsen said.
They arrived to a scene where lines of people were trying to get past the gates. Taliban soldiers stood guard, pushing people away, some firing gunshots into the crowds, Sadat said.
"We were told to wait and wait," she said. "We waited four days without food and shelter."
They ultimately made their way in and got onto a flight to Kuwait. Sadat sent Nielsen a photo of the group when they safely landed.
Arriving in America
Sadat's group flew to Washington, D.C., and then were taken to Fort Dix, a military base in New Jersey, where they stayed in tents. Sadat helped interpret and taught English to her fellow Afghans for three months before moving to Dublin, Ohio, where a friend of hers lived.
She worked a few retail jobs before getting a position as a location service analyst for an information technology company. But continuing her education was still on her mind. Sadat looked into applying to Ohio State University. She had kept in touch with Nielsen, discussing her interest in getting a doctorate in political science.
Nielsen, a lecturer in the Global Studies Program at UCR and a professor of applied psychology at New York University, heard about an unexpected scholarship opening with UCR's Scholars at Risk program and encouraged Sadat to apply. She was impressed by Sadat's determination to seek an education despite all the obstacles she faced.
"She's super smart," Nielsen said. "You could tell that from conversations with her. More than that, she had this drive."
UCR is part of the Scholars at Risk international network, in which institutions work to promote academic freedom and aid refugee scholars. 
Marko Princevac, vice provost of International Affairs, said UCR has no funding for the program but is exploring ways to enable hosting more scholars like Sadat. That work is being done under UCR International Affairs by a committee chaired by Nielsen and comprising faculty and community members. 
"One needs to understand that helping scholars at risk is far from only being charity," said Princevac, who said he was deeply affected by seeing war and refugees in his native Yugoslavia in the 1990s. "It is about enriching our institution as well as our nation. There are numerous refugee scholars that escaped perils of their home country, were accepted in USA, and contributed enormously to this nation."
Adjusting to UCR
The two-year fellowship program provided Sadat housing money for a room off-campus while she started classes soon after arriving in Riverside.
She admitted that the first quarter was challenging. Sadat was still adjusting to life in a new country, far away from her family, and felt depressed about what was happening in Afghanistan as well as post-traumatic stress disorder from what she had experienced.
Sadat credited academic and counseling support from UCR as well as emotional support from her instructors and friends with helping her adjust and do better.
"I told myself 'This is what you wanted and this is your future and your goal.' I was really determined about it," she said. "One thing motivated me, my mother used to tell me a proverb, 'Even if the mountain is high, there must be a path.'"
Sadat is focused on her studies with ambitious goals for the future. Once she completes her doctorate, she wants to help other Afghan women through scholarships and promote education as a way to improve the lives of all Afghans.
She hopes to use what she learns in political science to be a voice for change and spur the international community to support women's rights in Afghanistan.
"I want to bring forward this thought of how you get up and speak for your rights, with women's rights and empower them," she said.