UC Riverside is looking to formalize its partnership with the Palm Desert-based California Indian Nations College, or CINC, which just completed its first quarter of instruction.
The tribal community college launched in the fall with three classes at UCR's Palm Desert Center offered through UCR Extension. Two classes are planned for the spring.
The program — aimed at providing a culturally rooted and relevant curriculum about and for the Native American communities — took three years to plan and is the first of its kind in Southern California, according to Clifford Trafzer, a distinguished professor in UCR's history department and the Rupert Costo Chair in American Indian Affairs.
UC Riverside is providing free office space and leasing classrooms at Palm Desert Center to the college, which does not have its own campus yet.
The university and college are in talks to approve a memorandum of understanding that lays out future cooperation between the two, said Trafzer, who is acting as a volunteer consultant to the college.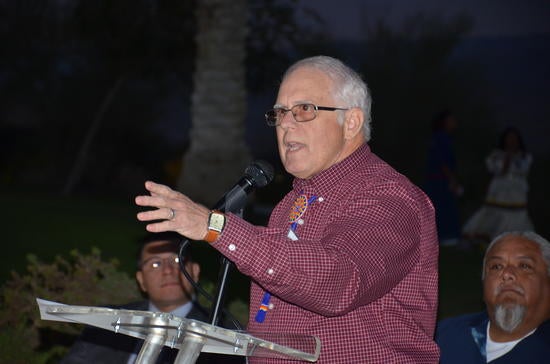 "We see CINC as a pipeline school to UCR and want students to participate in UCR-related activities, including programs sponsored by the Rupert Costo Chair in American Indian Affairs and UCR Palm Desert," he said.
UCR will also provide the college with support for a lecture series in spring 2019 that will include the screening of a film on Native American foods, he said.
The Twenty-Nine Palms Band of Mission Indian created the charter for the college in March and provided funding to lay the groundwork for an institution that will serve tribal communities and urban Indian people.
"Our course offering through UCR provided an educational experience that supports and strengthens tribal identity, tribal sovereignty, and self-development," said Celeste Townsend, the college president.
The college had 42 Native American students enrolled in one or more of its three courses: Intro to the Study of Race and Ethnicity, Intro to Archaeology, and History: The United States to 1977.
The Theresa A. Mike Scholarship Foundation provided tuition and fees for 36 of the students.
Many of the students are from local tribes and include older returning students, who had been unable to complete school before, as well as recent high school graduates, said Daisy Ocampo, recruitment, enrollment, and admissions manager for the college.
"It is one of the few learning environments where elders, young, and those in between come together to share their life experiences and how they connect to the material," she said. "Having instruction with emphasis on native people, culture, and histories has allowed CINC students to process resiliency, historical trauma, and their roles in their respective communities."
The college seeks to infuse a Native American perspective to all its classes from chemistry to political science. For example, a biology course would include Native American beliefs on plant and animal behavior and use of plants as food and medicine.
"We were thrilled to offer the three courses in Palm Desert for CINC students," said Kevin J. Vaughn, dean of UCR Extension. "We are more than happy to do anything that UCR Extension can do to help CINC with its mission and to create stronger ties between CINC and UCR. We were also very grateful to the Theresa A. Mike Scholarship Foundation for providing scholarships to the students."