Convenient distribution of fresh produce, safe-sex vending machines, and stress relief workshops are among six 2019 projects selected as part of UCR Healthy Campus.
The projects, which are aimed at improving the health and quality of life on campus, were awarded grants of up to $1,000 by the Healthy Campus Advisory Committee. All faculty, staff, and students were eligible to apply. The committee chose from 13 applications for the January-to-June cycle, said Ann Cheney, co-chair of Healthy Campus and an assistant professor in the Center for Healthy Communities at the School of Medicine.
Grant recipients met Jan. 31 to provide an overview of their projects. The committee also heard the results of the previous year's grants.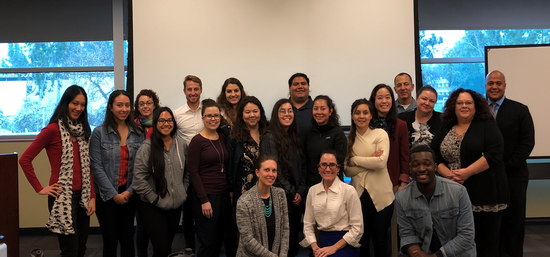 Projects are selected based on committee priorities that include healthy eating, physical activity, mental health, addressing substance use/addiction, and promoting culture change.
"We are very excited to collaborate with such talented UCR students, staff, and faculty to support Healthy Campus Project grants that support our work and help to improve the health and well-being of the campus community," said Julie Chobdee, Wellness Program coordinator and Healthy Campus co-chair.
The committee selected the following projects and recipients:
A wellness and resiliency workshop that provides staff and faculty with tools for self-care and avoiding burnout. — Karla Aguilar

College Men's Conceptualization, Communication and Interpretation of Sexual Consent, which studies male students' understanding of sexual consent. — Logan Marg

Get Moving While Graduating, which promotes activities for graduate students. — Maiko Le Lay

R'Garden-supported agriculture, offering small boxes of produce distributed to

students. — Alex Armendariz
The Effects of Deportation Related Stress on Academic Performance Among College Students in Trump's America. — Shirley Leanos

Safe-sex vending machines. — Elizabeth Kavianian and Stephanie Orozco
Kavianian, a third-year public policy student, said their grant will allow them to provide a vital service to students. Items such as Plan B, condoms, pregnancy tests, tampons, and more will be sold at a reduced cost in a vending machine that is easily accessible to students, she said.
 "We felt having it in a machine would definitely reduce the stigma or the embarrassment," Kavianian said.
Armendariz, a fourth-year student and R'Garden intern, said his project makes it easier for students, who might not ordinarily visit the garden, to make use of its produce.
 "We see this as a small opportunity to reach students we wouldn't normally be able to reach," he said.
The Healthy Campus Advisory Committee is in the process of choosing six recipients for the next grant cycle.
For more information on the program, click here.