From new residence halls at the north end of campus to the renovation of the Barn, UC Riverside is abuzz with construction activity, and it's just the beginning.
This year will be one of the busiest in campus history with about $400 million worth of projects under construction, including several new or renovated buildings.
The construction boom reflects the growing student population and the need for more classrooms, research space, and other facilities.
"UCR is growing and these projects will support that growth," said Jacqueline Norman, campus architect.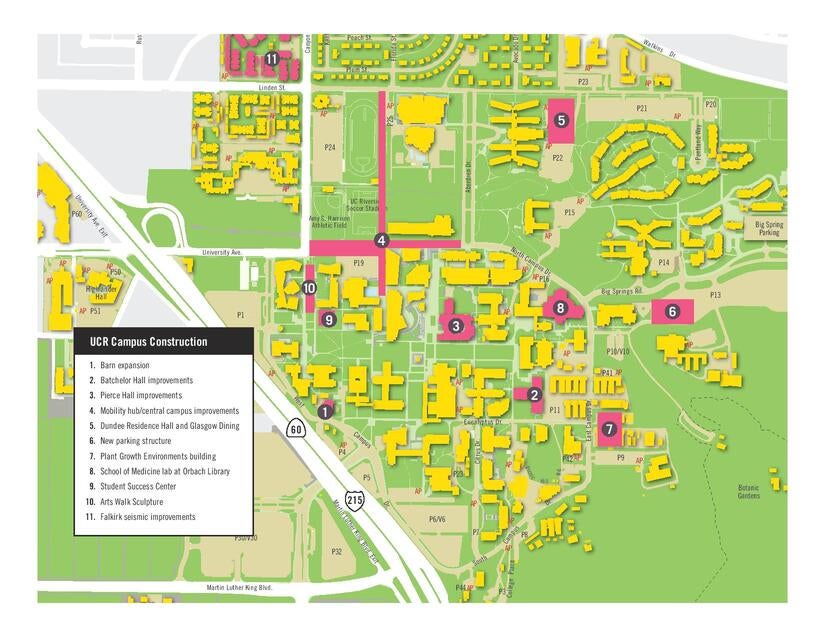 The Planning, Design and Construction department is working closely with Facilities Services and Transportation and Parking Services to minimize disruption to daily campus operations, but construction work is expected to result in some closures, detours, noise, and other impacts over the next few years, Norman said.
The campus began the year by celebrating the completion of the $164 million Multidisciplinary Research Building, which now stands as the largest and most sophisticated research facility on campus. The 179,000-square-foot building took three-and-a-half-years to complete.
Dundee-Glasgow
Not far from the new research facility, construction work began in December on the Dundee Residence Hall and Glasgow Dining Project. The project will consist of three separate structures on approximately 4.5 acres: a 51,000-square-foot, two-story dining facility and two seven-story residence halls totaling 176,000 square feet. The $150 million project is expected to be completed by fall 2020.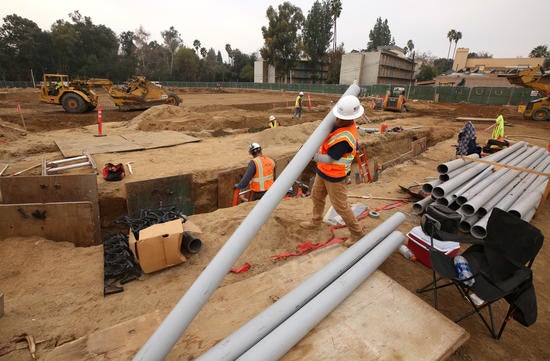 The Barn
Another major project that began construction last year is the renovation of the 101-year-old Barn at the southeast end of campus. The $29 million project will expand and refurbish the building that began as a horse stable, served as the first dining hall on campus, and later became a popular concert venue and restaurant for both campus and community.
The renovations include a refurbished Barn building with increased seating capacity, along with a new outdoor patio for diners and a significant new live entertainment venue. It will also include a reconstructed Barn Theater, a faculty/staff dining building and restroom building. The new 16,425-square-foot facility is expected to be open by October 2019.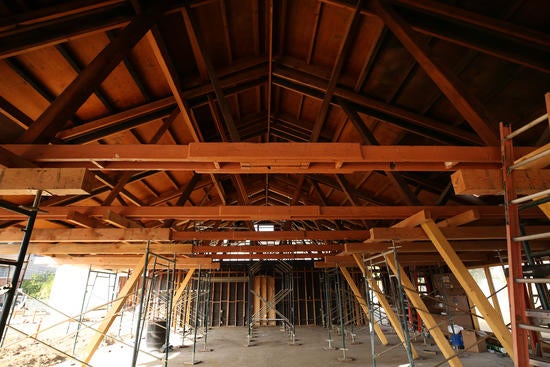 Pierce Hall
Work began at the end of January on a $60 million renovation project at Pierce Hall that will replace old mechanical, electrical, and plumbing systems, expand restrooms on all floors, and update fire alarm systems. The project will also modernize the 114,266-square-foot facility, built in 1966, with new class laboratories that will support STEM programs.
The project is expected to be completed by June 2021.
Arts Walk sculpture
An outdoor sculpture, located on a 5,000-square-foot area between the Arts and CHASS buildings, will start construction later this month. The $1 million project by artist Roy McMakin will feature a kinetic steel sculpture, sculptural concrete benches, and landscaping that includes Cottonwood trees.
The piece, designed to be functional as furniture and thought provoking as art, is expected to be complete by April. A campus committee proposed the project as part of an effort to provide more public art at UCR.
Mobility Hub/Central Campus Neighborhood
The $12 million project — a joint effort with the Riverside Transit Agency — will create a central bus hub by extending University Avenue farther into campus. It will feature a six-bay bus plaza, a sculptural canopy, and benches.
A horse-shoe-shaped roundabout will allow more buses to enter and exit campus faster. Construction will kick off in late spring with the transit center expected to be operating by fall.
The campus is taking advantage of the construction of the Mobility Hub to redesign nearby paths and roads to make them more pedestrian friendly. The project will close vehicular access to North Campus Drive and create a gateway plaza. The improvements are expected to be completed by early 2020.
Plant Growth Environments building
In April, work will begin on the $22 million Plant Growth Environments Facility near Parking Lot 9 and between East Campus Drive and the Computing & Communications building.
The 30,000-square-foot facility will feature 20,000 square feet of greenhouse and 20,000 in support space. It's the first new greenhouse space built in 50 years and will replace older facilities with high-quality, modern space to support plant research that allow for better temperature control.
The project is expected to be completed by July 2020.
Student Success Center
Located near the Arts and Carillon malls, the new 39,820-square-foot building will address a shortfall in classroom space with a 900-student capacity. It will also include lecture halls,  multipurpose rooms, group meeting rooms, group study rooms, open study spaces and a dining venue.
Construction on the $60 million project will begin in the fall and is expected to be completed by August 2021.
Batchelor Hall
The $27 million project, which will begin in July, will make key renovations to the 110,000-square-foot laboratory building. Improvements include replacing heating, cooling, ventilation, electrical, fire alarm and water systems.
Renovations will also be made to the building interior such as expanded restrooms, an upgraded elevator and new laboratory equipment and telecommunications rooms.
As with Pierce, the building will remain open during construction. Work is expected to be complete by July 2021.
School of Medicine clinic at Orbach Library
To meet the growing needs of the School of Medicine, the project will add an approximately 11,000-square-foot Clinical Skills and Simulation Suite in the Orbach Library basement. It will include features such as mock exam rooms, simulation rooms, wet and dry instructional spaces, as well as control rooms with audio/video/telecommunications functions.
Work is slated to begin in the fall and be done by October 2020
Lot 13 parking structure
The $30.5 million project will create a multi-story parking structure that can accommodate up to 1,200 vehicles. Construction will begin in December and finish by January 2021.
Located at the east end of campus at the existing Lot 13, the new structure will meet growing demand for parking space and make up for parking lots recently closed for projects such as Dundee Glasgow.
Falkirk seismic improvements
This project provides $7 million worth of earthquake-safety upgrades to the university-owned Falkirk Apartment Complex on Canyon Crest Drive.
The 220-unit complex includes 19 two-story buildings, two laundry rooms, and a common building for a total of 167,270 square feet. Work began last summer and will be completed in August.