UC Riverside's first major outdoor sculpture will begin to take shape in the coming weeks with a project by San Diego-based artist Roy McMakin that planners say will serve as a gateway to the campus.
While the campus has scenic views of nearby hills and notable building architecture, it has few pieces of outdoor art. That will change with what Campus Architect Jacqueline Norman described as a "significant new installation."
"We're bringing art to campus for faculty, staff, and students to interact with," Norman said. "They'll be able to walk in and around this piece."
The sculpture, titled Arts Mall: Roy McMakin Art Installation, is planned for a 5,000-square-foot area between the Arts and College of Humanities Arts and Social Sciences buildings, with work beginning this month and expected to wrap up by April.
The project will feature kinetic steel signs on a rotating turbine with the words, "Things Change" or "Change Things," depending on your perspective. Other elements include Cottonwood trees that change colors with the seasons, a variety of green and yellow plants, and sculptural concrete benches and seats. It will be designed as a concentric circle, creating the effect of a communal gathering spot.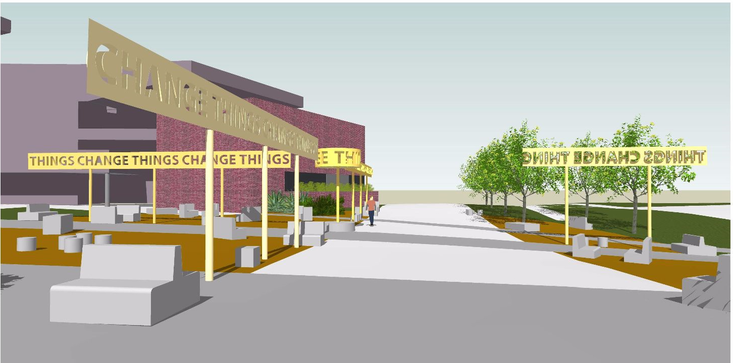 "I hope that it's resonant with the people that will see it most — meaning young adults," McMakin said of the signs. "Life is sort of about accepting that things change and trying to change things."
McMakin said he's interested in issues of "utility and usefulness." He sees the sculpture as a place where people can sit and reflect or gather for a demonstration.
The idea for the project began about 11 years ago when Jim Isermann, a UCR professor of art and sculptor, proposed adding artwork to the location shortly after the CHASS building was built.
Isermann said he wanted to "create a place to stop on that throughway, and to make sense of the chaotic walkways and mismatched concrete benches."
He suggested McMakin due to his experience in projects that make use of public space and furniture, who drew up a preliminary proposal. But those plans were shelved due to the Great Recession, Isermann said. When the Advisory Committee on Campus Art was reconstituted a few years ago, Isermann brought those plans to the committee's attention and the project was revived.
"McMakin's project will set a high bar for the new program of support for public art on campus," Isermann said. "McMakin's work stretches the understanding of what art can be and the multiple ways it can function, and that nothing is too small to be considered as a work of art."
McMakin has had over 30 solo exhibitions and work featured in major museums including the Hammer Museum at UCLA; the Museum of Contemporary Art, Los Angeles; the Museum of Contemporary Art, San Diego; and the San Francisco Museum of Modern Art.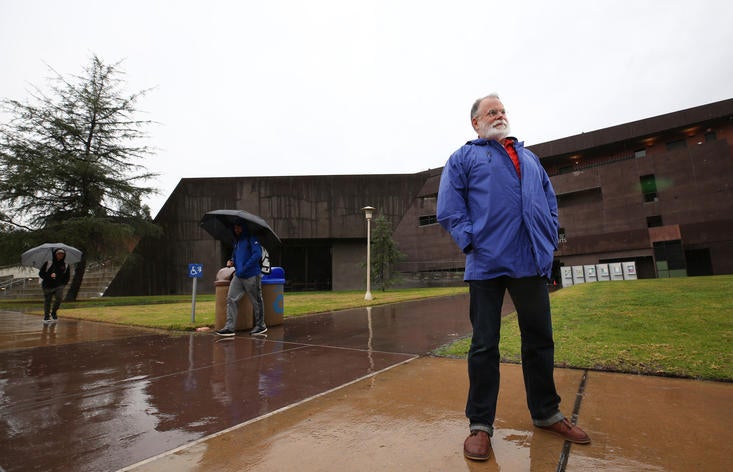 McMakin said he took on the project due to his respect for Isermann, a fellow artist he's known throughout his professional career. He said he felt the backdrop of the Arts Building, designed by architect Frank Israel, provided a good setting for an interactive arts piece.
The delay worked in the project's favor — allowing him to revisit and improve on his original concept, McMakin said.
"I like doing public art that you don't need to be a person who studies and thinks about art to enjoy," he said. "But I also want it to be interesting to people who do."
Construction will continue through April, usually from 7 a.m. to 4 p.m. Monday through Friday, with some occasional weekend activity.
Part of the area will be closed with temporary fencing erected, but the walkway will still be accessible with as little disruption as possible, said Drew Hecht, director of project management with UCR Planning, Design & Construction.
"We just ask that the campus be patient while this exciting project gets implemented," he said.
CHASS Dean Milagros Peña said she looks forward to the sculpture becoming a part of campus life.
"This piece is an invitation to pull us out of our day-to-day habits and jar us into a moment of reflection in the hopes of interjecting critical thought and calling us to action," she said.