Tarana Burke didn't have the words more than 25 years ago to connect with a young girl who, like her, was a survivor of sexual violence.
"What I really wanted to tell her was, `This happened to me too,'" said Burke, who was working with local youth at the time. "That's where the literal words 'me too' came from."
Since then, those simple words have taken on more power as Burke used them as a social activist to empower survivors of sexual abuse and assault. 
Burke spoke before a packed crowd at UC Riverside's University Lecture Hall on May 10 as part of an 18-month national tour that has taken her to about 100 campuses.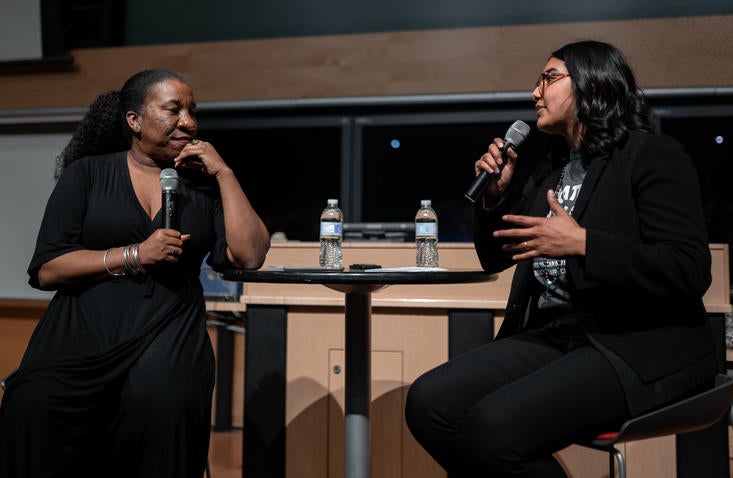 The founder of the 'MeToo' movement, Burke was named one of Time magazine's 100 most influential people in 2018.
She spoke about her own experiences as a survivor of sexual abuse as a child, her founding of a nonprofit working with young women, and how she took on the issue of sexual violence.
Although Burke first introduced the phrase 25 years ago, it wasn't until the last two years that 'MeToo' gained national prominence due to stories of sexual harassment, many in the entertainment industry. 
"The thing that has happened in the last two years is I've been elevated to a position I would never have imagined," she said. "I'm trying to use it and be as responsible as possible."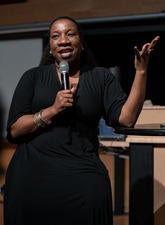 She said the movement gave survivors of sexual harassment and violence the collective courage to come forward due to the strength of their numbers. 
"Every single person who has said `me too' has taken a risk in one way or another, whether it's personal, professional, or political," she said.
Burke said she felt the trauma in her body of the sexual abuse she faced as a child and decided to cope by putting on a public persona to cover up what happened to her.
It wasn't until she read the poem "Caged Bird" by Maya Angelou in sixth grade that she realized others had the same experience. Another turning point for Burke came in the ninth grade when she watched a video of Angelou performing "Phenomenal Woman."
"When I heard her voice, the first thing that came to me is I believe her," she said.
Burke said her work is focused on "healing and action."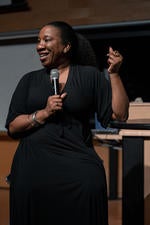 Colleges and universities can play an important role in making changes, she said, noting students can be the ambassadors of the movement.
"Colleges will lead the way … greater communities think about safety," Burke said.
The talk was sponsored by UCR CARE (Campus Advocacy, Resources & Education), the Women's Resource Center, Middle Eastern Student Center, African Student Programs, Native American Student Programs, Center for Ideas and Society, ASPB, Highlander Empowerment Referendum, and the Office of the Chancellor.