Eurosemillas S.A., a global leader in the commercialization of agriculture innovations, has signed a $5 million agreement with UC Riverside to expand a research and licensing partnership that has taken the campus' citrus varieties to nearly 20 countries.
The company, based in Cordoba, Spain, is UCR's largest international licensee of the Tango mandarin variety. Internationally, it is sold under various brands, including Tango Fruit. In the U.S., the Tango mandarin is grown by California citrus growers and is among the varieties sold as Cuties and Halos. Eurosemillas also licenses other citrus varieties, as well as avocado and asparagus varieties patented by the university in international territories.
UC Riverside Chancellor Kim A. Wilcox and Juan Cano Ruano, founder and president of Eurosemillas, signed a memorandum of understanding May 22 during a three-day visit by top company leaders that included meetings with Riverside Mayor Rusty Bailey and Heidi Marshall, managing director of the Riverside County Economic Development Agency.
 "UC Riverside is extremely pleased to continue our partnership with Eurosemillas to expand our agricultural research and take varieties patented here in Riverside to markets around the world," Wilcox said. "We are grateful for their continued support in helping further UCR's mission to foster world-class research and student success."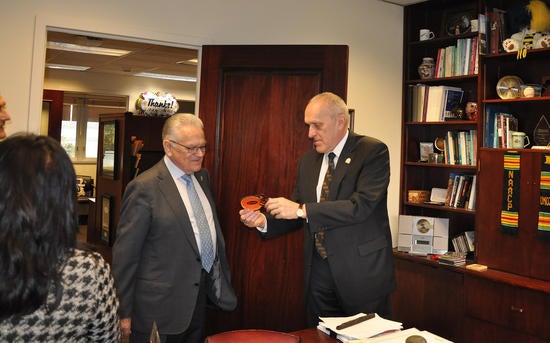 As part of the five-year agreement, the company will fund grants to commercialize technology, spur the creation of local technology companies, expand collaborations and research, and increase Eurosemillas' presence in Southern California.
The company will provide $4 million in funds via gifts and sponsored research with the remaining $1 million in in-kind contributions.
The company will fund a visiting scientist at UCR who will work with faculty and conduct research of interest to Eurosemillas. UCR will facilitate internships for students at Eurosemillas in Spain and other parts of the world where they can gain industry experience.
The partnership combines Eurosemillas' industry expertise, customer relations, and business connections with UCR's research and technical expertise in agriculture, genomics, and engineering, the two parties said.
Eurosemillas, which is celebrating its 50th anniversary, has partnered with UCR directly since 2003, providing millions of dollars in royalty revenue and research funding. 
At the meeting where the agreement was signed, the two parties discussed future collaborations including joint international opportunities in Africa.
During their visit, Eurosemillas company officials also attended the closing session of the California Agriculture Summit on campus.