In over five decades, more than 450 UC Riverside alumni have impacted the world through volunteering with Peace Corps. 
To acknowledge contributions made by UCR students, Peace Corps Chief of Staff Michelle Brooks recently visited UCR, chatted with students, and met with International Affairs Vice Provost Kelechi Kalu. 
In order to offer greater support to students considering Peace Corps after college, in 2017 Kalu initiated the implementation of the Peace Corps prep course, a skills-building program designed to give a greater competitive edge to Peace Corps applicants. The program, which awards a Peace Corps Prep certificate, is now centrally managed by the UC Education Abroad Program. UCR is now one of more than 100 college campuses in the United States to offer the prep course.    
"Our students are hardworking. They are committed to social justice issues, equity, and being of service in order to transform lives at home and abroad," Kalu said. "At UCR, the prep course serves as a framework for our students to use their education abroad experience to build upon their academic interests in a way that makes them more competitive Peace Corps applicants." 
Since 1961, through spring 2019, UCR has sent more than 450 alums throughout communities around the globe, said Kathryn Fidler, public affairs specialist with Peace Corps. Currently, 98 UC alums are serving in Peace Corps, five of which are UCR alumni. 
In 2018 UCR ranked as the 5th top producer of Peace Corps volunteers among minority serving institutions in the U.S., Fidler said.  
The numbers are not surprising to Brooks. UCR's students offer unique backgrounds and experiences, assets that become helpful in adapting to new cultures and in learning new languages, Brooks said. Also, in many of the developing countries where Peace Corps serves, UCR students fit perfectly because they understand Peace Corps' mission: world peace and freedom.
"Culturally diverse students can have a deeper impact," Brooks said. "They have the ability to build coalitions between communities. And they tend to also cast a vision for other young people who many times are meeting an American for the first time."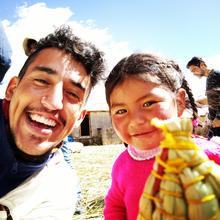 One of those young volunteers was Edwin Aviles, who graduated from UCR in 2015 and served three years in Perú within the Peace Corps' public health sector. He visited UCR in May for the meet-and-greet with Brooks. 
UCR's education helped shape his love for helping the community, he said. As a biochemistry and premedical major, Aviles knew he wanted to roll up his sleeves and work directly with the indigent population.
Peace Corps solidified that. In Perú, Aviles worked as a community health promoter. 
His job required collaborating with the community's women, cooking and teaching them new recipes to counter anemia and malnourishment. Aviles also worked with the youth, offering sex education workshops in attempt to reduce teen pregnancy rates.
In the process, Aviles learned about himself too, he said. He taught himself how to cook by watching YouTube channels, learned how to survive on a tight budget, improved his Spanish, and "culturally, I felt Latino for the first time in my life."  
"As a human being, it was an empowering process," said Aviles, 27, a biochemistry major who currently works as a case manager with Union Station Homeless Services in Altadena. "I helped create gardens, raised chickens. It was a parallel journey for my community and I."