When Cynthia K. Larive joined UC Riverside as a bioanalytical chemistry professor in 2005, she had no aspirations of an administrative role.
She was happy as a faculty member and busy with a productive lab. But when the time came that she felt she could be of service, Larive stepped up — first as a department chair and later as a divisional dean.
Fourteen years later, she leaves UCR as its provost and executive vice chancellor at a time when the university has seen graduation rates increase and its academic reputation rise in national college rankings.
Larive will begin her new position as the 11th chancellor of UC Santa Cruz on July 1.
"It's a new adventure for us, and a new challenge for me," she said in an interview in her office a few days before wrapping up at UCR.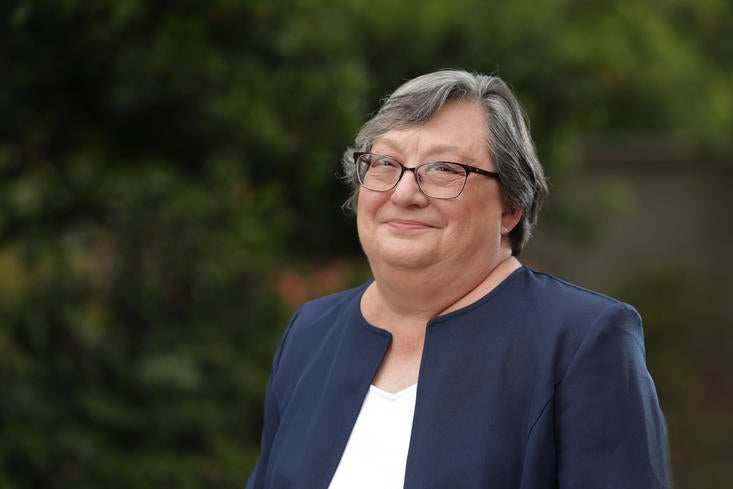 As provost, Larive is the chief academic officer and second-ranking campus leader. She describes her role as promoting UCR as a research university and ensuring that undergraduate and graduate students receive an excellent educational experience.
"We have a great university, and I wanted to help tell that story," she said.
Larive first became provost in February 2017 on an interim basis before she was formally appointed to the position that October. 
"It was a time on campus I felt I could perhaps step in and help to improve morale and help the campus establish productive working relations with the faculty and the Academic Senate," she said.
Larive said she used the political capital she had built up over the years to "reassure people we were on a great trajectory at UCR, and we need to work together on behalf of our faculty and students."
Her connection to the campus goes back to 1988 when Larive joined the doctoral program in the Department of Chemistry.
Coming from Sioux Falls, South Dakota, Larive recalled being amazed by the size of the 5,000-student campus and landscape, such as the yard full of wild ivy growing in the house she stayed in when visiting the campus as a prospective student.
She moved to Riverside with her husband, Jim, a high school teacher, and their two daughters, who were aged 1 and 4 at the time.
Dallas Rabenstein, a distinguished professor emeritus who had Larive as one of his graduate students, described her as an excellent student at a farewell reception for her earlier this month.
"When I think of how hard she works, it reminds me of one time when she was a graduate student in my group," he said. "She came to my office quite concerned — the other students in my group were telling her not to work so hard, it was making them look bad."
After earning her doctorate in 1992, Larive joined the faculty at the University of Kansas. But she returned to UCR in 2005 after Rabenstein called her to ask if she knew of anyone interested in a senior analytical chemistry position. 
Rabenstein, a retired provost and executive vice chancellor, said Larive was the first graduate from the program to be hired as a faculty member. She went on to distinguish herself in the classroom and in her research, he said.
Larive became chair of the Department of Chemistry in 2012,  and then served as divisional dean for physical and mathematical sciences in 2013. 
She helped launch a mentorship program for women faculty in STEM, which was later expanded to support women in all fields. Larive helped revive the Women's Faculty Association and organized retreats to support recruitment and development.
Gillian Wilson, senior associative vice chancellor for Research and Economic Development, first got to know Larive through the mentorship program. Her own career trajectory was influenced by Larive asking her to serve as interim divisional dean at the College of Natural and Agricultural Sciences, Wilson said.
Larive said those connections to women faculty across campus enriched her experience and were helpful in taking on a larger campus role.
In 2016, she moved on to what she described as her most fun job: vice provost for Undergraduate Education.
"It is a job, like the provost, connected across all the schools and colleges, but the main task is to improve the undergraduate experience and help your students become more successful," she said.
Larive worked with the math department to improve introductory math classes by offering students supplemental lectures and the Math Emporium program to encourage collaborative learning among students. As a result, student performance rates in precalculus classes improved and graduation rates rose, she said.
As provost, Larive worked to increase the number of transfer students admitted to UCR and support them through academic and peer mentoring programs.
As a first-generation student herself, Larive believes in the power of higher education to change the trajectory of people's lives, noting that it happened for her.
"I'm so proud of our students and know that in many cases they've overcome a number of challenges to get to UCR," she said. "They are survivors and pioneers in a way, and they have an amazing future in front of them."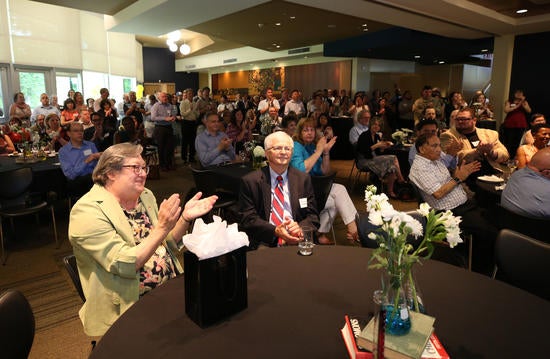 In an email message to the campus announcing her new position, Chancellor Kim A. Wilcox praised Larive for accomplishments that included securing reaccreditation by the Western Association of Schools and Colleges in 2018; helping recruit two Nobel Laureates; making progress in meeting the 2-to-1 ratio goal of California resident freshmen to transfer students; and strengthening UCR's shared governance through increased consultation with the Academic Senate.
Wilcox said Larive had influenced the campus culture in many positive ways.
"She has had a personal role in improving graduation rates, advocating for increased diversity among faculty and graduate students, and working to improve the climate for all members of our campus community," he said. "On a personal note, I will miss Cindy's keen insight, collaborative spirit, and fearless optimism, as I know many will across UCR."
Larive said Wilcox has been a wonderful mentor to her.
"I appreciate his support and guidance so much," she said. "I don't think I can emulate his laugh, but I'll think about it and at least give it a smile."
While she now joins the banana slugs of UC Santa Cruz, Larive said as "as an alumna of UCR, I'll always be a Highlander."