On Oct. 17 at 10:17 a.m., the normal routine at UC Riverside was disrupted by the sound of emergency sirens and a warning blaring from speakers on top of the bell tower.
Inside the Emergency Operations Center, or EOC, at the Environmental Health and Safety Building, emergency personnel monitored a computer dashboard on a large screen with a live feed of reports from the campus while coordinating the emergency response. One report described a 6.2 magnitude earthquake on the San Jacinto fault. About 10 minutes later, a report came in of a fire in a campus building.
That was the drill scenario the campus took part in as part of the Great California ShakeOut. It's the type of disaster that emergency management officials want to be prepared for due the to strong likelihood of a large earthquake in the region.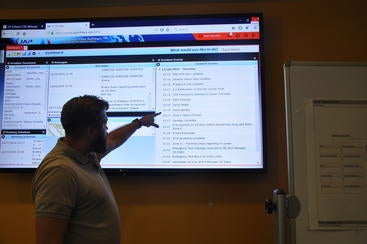 The Office of Emergency Management used the drill to test its emergency communications systems that include text, email, and voicemail alerts. Emergency messages were also posted on social media. Fire alarms went off in four campus buildings, which were evacuated, led by employees who are part of the volunteer Building Supervisors for Emergency Conditions and Building Emergency Staff programs.
Those employees, along with police, sent in damage reports to the emergency command team at the EOC.
Students, staff, and faculty members were asked to drop, cover, and hold on, which emergency officials say is the safest response to an earthquake.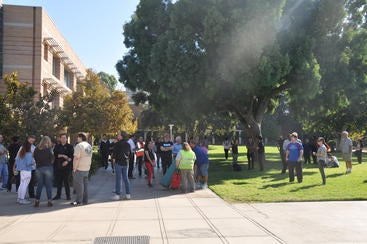 Emergency officials said the drill went well with all the communications systems working as they should.
"With each exercise, we learn something new, and we're better able to improve our preparedness and response," said Lisa Martin, director of the Office of Emergency Management.
At an information booth set up at the HUB, Abhijit Ghosh, an assistant professor of earth sciences, and his graduate students were among those who took cover under a table during the drill.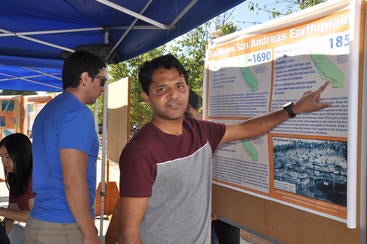 The booth showed visitors how to put together an earthquake kit and displayed posters with information about past earthquakes and the seismic risks of the region. Those were also demonstrated with 3-D models of a San Andreas Fault simulator and the area's faults.
California is overdue for another large earthquake, and preparation and knowing how to react will be key to ensuring one's safety, Ghosh said.
"It is incredibly important," he said. "It can determine whether you live or die."