Thursday Nights Live is back for a fall season that will also be it's last at the HUB plaza.
But the weekly live music series, which kicked off Thursday, Oct. 17, will return in a new form at the newly renovated Barn in the winter quarter.
Thursday Nights Live offers UC Riverside staff and faculty members an opportunity to unwind with cocktails and music after work in the center lower court area of the HUB plaza. 
The program began in 2016 as a result of a campus leadership retreat challenge with the goal of strengthening the sense of community on campus.
The program is sponsored by the Office of the Provost, KUCR, Highlander Union, and Staff Assembly. Representatives from each department and the original challenge team make up the Thursday Nights Live Committee that organizes the events. The evenings are geared toward faculty, staff, and graduate students — due to the sale of alcohol — but families are welcome. The eateries at the HUB stay open throughout the event.
The committee will remain involved with the event when it moves to the Barn Stable, the faculty/staff area of the Barn when it opens for business in the winter quarter, said Ameae Walker, UCR vice provost of academic personnel.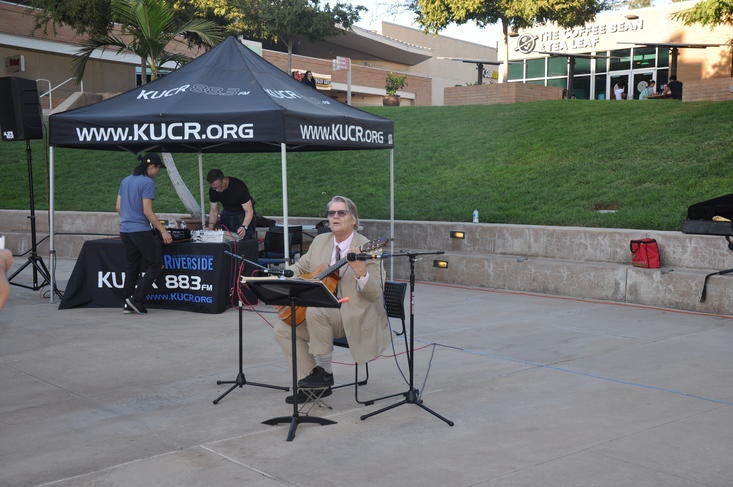 Walter Clark, who has been granted a knighthood by Spain in honor of his devoted study of Spanish and Latin American music, played classical and flamenco guitar for the first show. 
KUCR is organizing a student performance for the Oct. 24 event, while Clyde & Friends, a keyboard-based band led by Clyde Blackwelder, UCR's ergonomics specialist, will close out the season on Nov. 7. No performance is planned for Halloween.
Visit the Thursday Nights Live website for more information about the program and lineup.