Three graduates received the 2019 Alumni Awards of Distinction at the annual Chancellor's Dinner on Oct. 19: Helen Newman '79, founder of Veterinary Transplant Services; Jerry Swain '89, founder of Jer's Chocolates; and state Assemblywoman Sabrina Cervantes '09.
The UCR Medallion was presented to Jack and Laura Dangermond, founders of Redlands-based Environmental Systems Research Institute, or Esri.
The dinner event, which benefits scholarship and fellowship initiatives, was attended by students, alumni, staff, faculty, and community members at the Highlander Union Building.
Chancellor Kim A. Wilcox said the annual ceremony offers a valuable way to tell UCR's story, which this year includes top placings in several rankings, including No. 1 for social mobility in the 2020 U.S. News & World Report Best Colleges list.
UC Riverside is a university that has always "punched above its weight," Wilcox said. "We're about changing people, changing regions, and changing the world." 
The award winners took different paths in life but all spoke about how important UCR was in shaping what they would do.
Newman, who graduated from UCR with a bachelor's degree in biochemistry, was presented with the Distinguished Alumnus Award, given based on national and international distinction in one's field and significant contributions to humankind.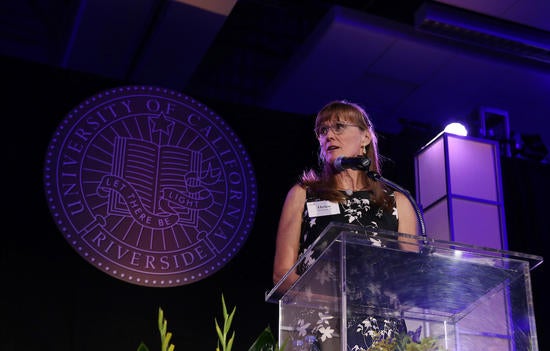 Through her company, Newman developed a surgical veterinary orthopedic product that is the only one of its kind in the world and has saved the lives of many pets. She and her team make orthopedic bone products for dogs, cats, and horses; provide medical device companies with animal tissue grafts; and produce soft tissue and cornea allografts for animal transplants.
Newman said her time at UCR gave her confidence to do things she initially thought she couldn't. In particular, she cited her participation in athletics and a year abroad in Scotland through the Education Abroad program, which she said opened her eyes to the greater world.
"Innovation and growth and creativity doesn't happen without a good foundation," Newman said. "UCR is the place that creates that foundation."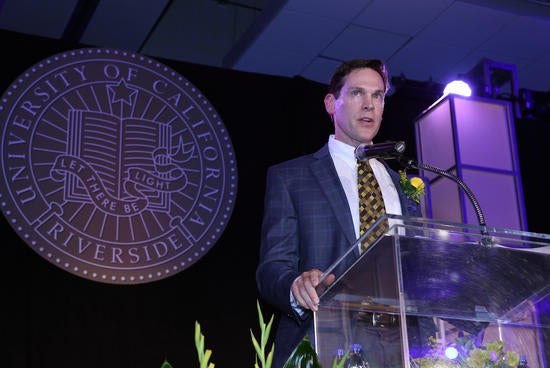 Swain, who graduated in 1989 with a bachelor's degree in business administration, received the Alumni Service Award.
For Swain, UCR was the place where his chocolate ball recipe first became a hit when he brought them to a Christmas party. He soon made them regularly at campus gatherings, eventually forming Jer's Chocolates.
Swain also practiced another family tradition while at UCR, getting involved in public service by organizing a campuswide food drive that ended up collecting 6,000 pounds of canned goods.
Swain, who sold his company in 2014, has donated over $250,000 to more than 80 local and national charities through his Jer's Cares Initiative. He's served on many charitable boards and is a volunteer and advocate for the Special Olympics.
His parents and grandfather instilled in him early the importance of helping others despite growing up in what Swain described as a "food stamp" family. Swain cited a quote from Martin Luther King Jr.: "Everybody can be great because anybody can serve."
"It's synonymous with showing love to a fellow person or an organization," Swain said.
The Outstanding Young Alumnus Award was given to Cervantes, who graduated in 2009 with a bachelor's degree in political science. The award is given to alumni under the age of 40 with a significant record of civic or career achievement. 
Since her election to the state Assembly in November 2016, Cervantes has made veterans, public safety, transportation, the economy, and higher education a top priority. Earlier this year, she helped pass legislation to secure funding to expand UCR's School of Medicine.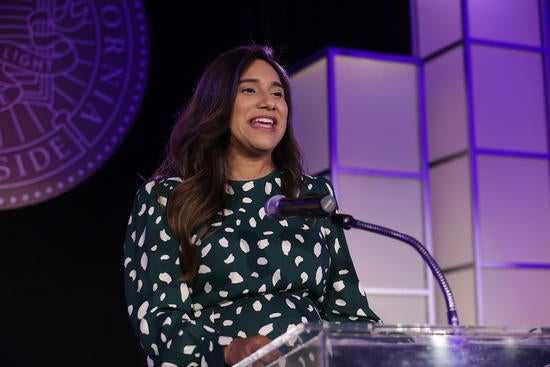 Cervantes said she came from a family tradition of civil service, noting her father, also a UCR graduate, is a former Coachella mayor. She said she's proud to call herself a Highlander, describing how UCR gave her a sense of community and belonging. Now she wants to provide that same opportunity to new generations of students.
"My university experience shaped who I am," she said. "Year after year, this institute educates and prepares the best and brightest in the region."
The final award of the night was the UCR Medallion, presented in recognition of innovation, leadership and philanthropy to the Dangermonds. The couple grew a small research group into a world leader in software development for geographic information systems, or GIS.
Although the Dangermonds didn't attend UCR, the campus played an important part in Esri's start in the 1960s, Jack Dangermond said. The couple had returned to Redlands and were looking for a computer center in the area to work on an idea for a company they had conceived while at Harvard University.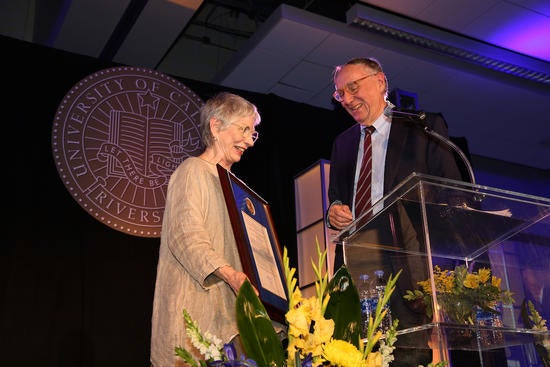 "UCR was the only place where there was a mainframe computer, and they were willing to rent me the computer between 12 o'clock and 6 o'clock in the morning," Jack Dangermond said, recalling how he and Laura worked all night in the basement of a campus building.
He praised UCR for helping to improve the region, highlighting its progress in opening doors for students of different incomes, ethnicities, and ages.
"It touches us to see what's happening here," Dangermond said. "Just imagine those thousands of (students) coming out of here, their possibility."
The dinner was organized by UC Riverside Foundation and the UCR Alumni Association, which has presented the annual awards since 1986.