Rodolfo Torres studied to be a mathematician, but he's long been curious about different disciplines, finding ways to explore mathematical theories in other areas such as biology and engineering.
"At some point, you think, `There are so many different things to research,'" said Torres, who took over as UC Riverside's vice chancellor of Research and Economic Development on Sept. 1.
That curiosity for exploring and supporting different facets of research is what drew him to the position, he said during a recent interview in his office at the University Office Building.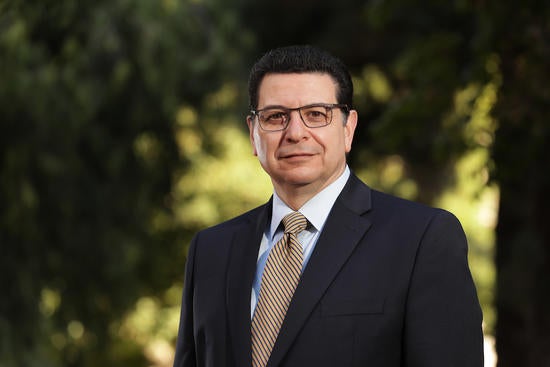 "You can help people who do research in other areas," Torres said. "That's what I like most about the position, which is enabling researchers and helping them to do their best."
Torres was selected following a national search for a "collaborative, strategic, and entrepreneurial leader" to oversee the office, which works with faculty, departments, and schools on increasing federal research funding. It also helps spur economic development through promoting entrepreneurship, negotiating research partnerships with companies, and working with federal, state, and local governments.
He described his first month as a hectic one getting to know and meet with deans, center directors, and senior administrator on campus. Torres has also met with the Greater Riverside Chambers of Commerce and Riverside city and county officials, and he is looking forward to interacting with more students, faculty, and staff members.
"I'm trying to make myself available to everyone that plays a role and interacts with this office and get a better sense of what is going great, what needs some adjustments, and what needs to be substantially changed," he said.
Torres said he's impressed with how UCR is seen in the community.
"What I've found very, very attractive and surprising in a good way is how open people are to interact with UCR," he said. "They're really eager to have UC Riverside as a partner and work together in many  initiatives."
Torres said he wants to build on the success that UCR has had in increasing research grants, which have gone up 68% over the past five years. He believes there's more room to grow, with opportunities to seek additional funding from federal agencies such as the National Institutes of Health and the Department of Defense.
He also cited recent projects, such as a biosafety level 3 laboratory to combat a citrus-destroying disease, and the California Air Resources Board research and testing facility, as examples of the types of collaborations he wants to see continue.
"We want to grow more of those with other industries," he said.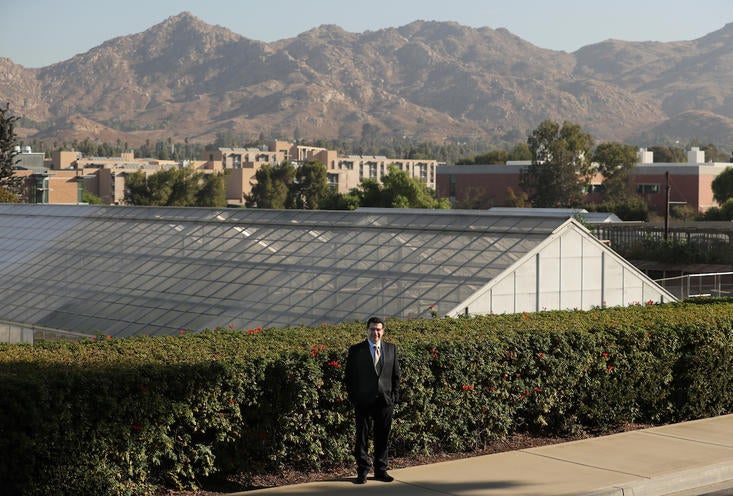 Torres said he's not just interested in science and agriculture, noting arts, humanities, and social sciences research and creative activities are just as important.
Torres came to UCR after 23 years at the University of Kansas where he was a University Distinguished Professor of Mathematics. He held leadership roles with the faculty senate and later on took administrative positions including associate vice chancellor and interim vice chancellor of Research and president of the University of Kansas Center for Research.
It was a difficult decision leaving the University of Kansas, where he loved working, but Torres said he was "ready to take on new challenges."
He was attracted by the "impressive UC Riverside student success and diversity, the great research already taking place on campus, and the opportunities for economic growth in the region." He believes the combination of these factors places UCR in a unique position among top-tier research universities.
Torres plans to continue his research on harmonic analyses, which involves finding patterns in complicated data and helping solve mathematical equations, as well as analyzing signals and images such as the coloration of birds, a topic he has tackled in his research.
"Even though I have a heavy administrative role, I perceive myself as faculty," he said. "I never lose track of that. My role here really is to facilitate the research of my colleagues."
A native of Argentina, Torres came to the U.S. to earn his doctorate from Washington University in St. Louis, where his wife, Estela Gavosto, also studied mathematics. He completed postdoctoral studies at New York University and the University of Michigan before they both joined the University of Kansas as faculty members.
The couple, who have two grown sons, have moved to Riverside where they're enjoying the California sunshine and scenery after years of Kansas' extreme weather of very hot summers and cold winters. 
"It's a beautiful place," Torres said, motioning to the view of the Box Springs Mountains from his window. "Every day, it's the first thing I do when I get into my office. I look for a few minutes at the mountains and get inspiration for the day's tasks."