UC Riverside senior Jennifer Thompson began working in Dining Services before her first day of class four years ago, and she soon climbed up the ranks to management positions.
While her work ethic took her far, Thompson said she lacked some of the professional and leadership skills that would be useful in supervising employees.
She's now among almost 200 Dining Services employees who have received that training through the department's Pathways professional development programs for both student and full-time staff members that launched in 2017.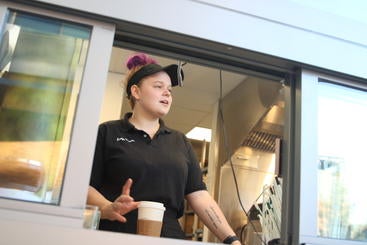 Participants take a mix of both hands-on and online courses that offer business skills, tools, and coaching methods. They learn how to communicate clearly, train others, and make sound decisions that improve customer service, food quality, and staff engagement.
"The program was created to give our team members the opportunity to develop the skills necessary to become dynamic leaders," said Ebony Phillips, training manager for Housing, Dining, and Hospitality Services
The program has three components. In addition to online training, participants take part in group meetings with peers, and meet one-on-one with mentors who have completed the program or are managers.
Thompson, a student manager at Emerbee's cafe, said she's learned more about motivating employees and is now a facilitator for group meetings after completing the program last year. An English major, Thompson plans to pursue teaching and expects what she's learned in Pathways will prove useful.
 "I was missing a lot of soft skills," she said, noting how she learned better ways of communicating when someone makes a mistake and praising them when they do well.
The program has graduated 135 employees in the student supervisor course and 25 in the student manager course. Among full-time staff, 20 have graduated in the professional skills course for potential promotion into supervisor positions. Eighteen supervisors have graduated the leadership skills course for potential opportunities as managers.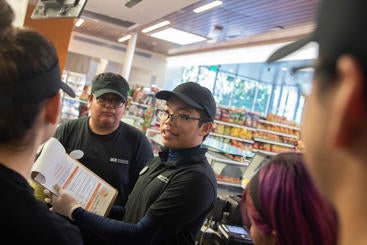 Sumachai Suksanguan, a third-year student majoring in computer science, said he moved up to a student manager position at the Market at Glen Mor after completing the program. For student workers, the program helps train the next set of managers, he said.
"We're always looking to grow students," Suksanguan said. "At the end of the day, we want them to take over our job when we graduate."
Professional employees say the program has provided them a way to advance as well.
Allison Eagan, a baker at Aberdeen-Inverness Residential Restaurant who's been with UC Riverside for 13 years, said she's planning to apply for a management position soon. 
"I wanted to move up here and (Pathways) gave me a little bit extra help," Eagan said.
She said she found the program helpful and used group meetings to discuss issues like reducing food waste. She also brainstormed an idea for a food-to-go program that is now being implemented by Dining Services.
Pascual Beltran, a supervisor at the Market at Glen Mor who has worked at UCR for three years, said the program allows employees to take a break from their busy routines and learn from each other.
"We were able to branch out and think about a lot of things we experienced," he said. "We were able to compare notes."
As Dining Services expands with the recently opened Emerbee's, the planned reopening of a renovated Barn in February 2020, and the Glasgow Dining Hall under construction, Beltran said it's important to provide employees with additional training.
"I think it's one of the best things that's happened since I've been here," he said.