The online master's degree at UC Riverside has moved up to No. 29 in U.S. News & World Report's 2020 rankings of online engineering master's degree programs. The program, which began enrolling students in 2016 and was ranked No. 56 in 2018, had risen to No. 33 by 2019. The rapid rise reflects a curriculum that combines thorough education in engineering specialties and leadership skills that help students succeed in their careers.
"Students pursuing an online degree should have the same challenges and opportunities as a traditional degree," said program director Kambiz Vafai, a distinguished professor of mechanical engineering in the Marlan and Rosemary Bourns College of Engineering. "There is no difference between online and in-person education and in fact, exams for the online courses are sometimes viewed as more rigorous."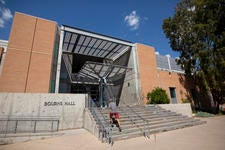 The online master's degree in engineering at UC Riverside consists of 16 units of core engineering courses related to management, 16 units of specialized engineering courses, such as bioengineering, mechanical engineering, or materials science, and a four-unit capstone course. The program can be completed in 13 months and is designed to meet the needs of working professionals for whom an in-person master's degree might not be possible. Almost all participating online students are already established in engineering careers and are seeking additional expertise, leadership skills, and professional development. 
Although grades play an important role in admissions, Vafai said UC Riverside takes a holistic approach, looking at everything the applicant has done. 
"Student admission considers grades, publications, patents, years of professional experience and outstanding recommendations," Vafai said. "Some of these students have done very well before even entering the online program."
The program currently has 124 students enrolled but there are plans to continue growing the program to over 200. The program has graduated 145 students so far.