Nora Hackett, a member of the UC Riverside Board of Trustees and Marlan and Rosemary Bourns College of Engineering Council of Advisors, has established an endowment in the amount of $500,000. 
The Nora A. Hackett Instructional Equipment Endowed Fund will benefit engineering instructional labs, funding the purchase of new equipment and ensuring students are best prepared to conduct research or enter the workforce.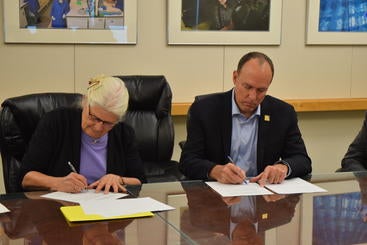 "In addition to giving students hands-on experience in the lab, my hope is that, perhaps, this gift will encourage other staff to support the educational missions of UC Riverside," Hackett said.
Hackett, a biologist with a doctorate from Brown University and a registered patent agent, worked as UC Riverside's director of intellectual property services from 2000-2011. She established the Colin E. Hackett Endowed Engineering Research Award in honor of her late husband who was manager of UC Riverside's Alternative Fuels and Renewable Energy Research Program at the College of Engineering Center for Research and Technology, or CE-CERT, from 2000-05. The award provides research support to full-time graduate students in engineering.
Each department in Bourns College maintains its own set of specialized instructional labs with funds to maintain this equipment coming from a variety of sources, including student fees. The Nora A. Hackett Instructional Equipment Endowed Fund will provide a steady annual source of funds to help selected engineering departments keep undergraduate and graduate student instructional labs well equipped and up to current standards.
The funds will be available to the following departments and programs:
Bioengineering
Chemical and Environmental Engineering
Materials Science and Engineering
Mechanical Engineering
"As a longtime UCR supporter, Nora shares in our mission to prepare our students for the next step in their careers," said Bourns Associate Dean Marko Princevac. "Her gift helps ensure that despite technology's rapid changes, our students will train using current instruments and equipment common to the workplace."