Much of the UC Riverside campus was empty and quiet on Thursday afternoon, but the Market at Glen Mor was open, providing meals and supplies for students left on campus.
While most UCR employees are working remotely due to the campus closure, Dining Services employees are among those providing critical functions. They continue to come in to work to feed several thousand students living on campus. 
The Market at Glen Mor and the Lothian Residential Restaurant were the only dining facilities open for limited hours during winter quarter finals week as Dining Services pared down its operations. As of March 20, the Market at Glen Mor is the only dining facility open, and it will remain so during the duration of the campus closure.
As part of the new social distancing rules to limit the spread of COVID-19, Dining Services has put in place several safety measures.
Tables have been moved to the side and chairs stacked away. Signs and posters advise customers to keep 6 feet apart, with tape on the floor marking the appropriate distance. Sanitary hand wipes are available alongside utensils for diners to use.
Staff members are monitoring lines to limit the number of customers in the building and make sure those in line keep a safe distance from one another.
"It's definitely a different paradigm," said David Henry, director of Housing, Dining and Hospitality Services.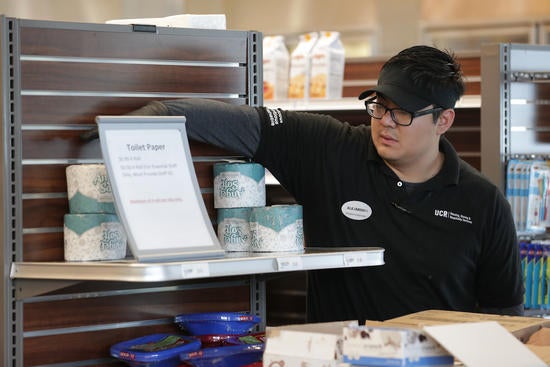 Medical-grade sanitizer is being used regularly to clean frequently touched surfaces such as knobs, handles, and bathrooms. Increased sanitizing in cooking areas continues as well. Staff members are told to wash their hands often and food servers are switching out their gloves more often, while cashiers are now wearing gloves also.
"We're doing absolutely everything we can to serve our residents and are mindful to keep our staff safe," Henry said.
Between Lothian and the Market at Glen Mor, Dining Services served about 2,000 meals a day this week, he said.
The department also kept the market well stocked with groceries and other necessities, including rolls of toilet paper, available at a discount to staff with an R'Card. It's a way to help employees who may not be able to get to their local grocery store, Henry said.
Senior undergraduate student Andrew Attia said he and his friends have been depending on the Market at Glen Mor this week more than usual to find groceries and supplies.
"Everything else has been closed, and they've got what we need," Attia said during a lunch visit Thursday.
The Starbucks cafe inside Glen Mor remained open, as did the Savor and Sizzle counters offering various soups, salads, burgers, and sandwiches.
First-year student Peter Tran, who stopped by to pick up lunch to take to his dorm room, said he's grateful that he's been able to rely on Dining Services for his meals.
"I'm still getting the food and the supplies I need," he said. "I'm not going hungry."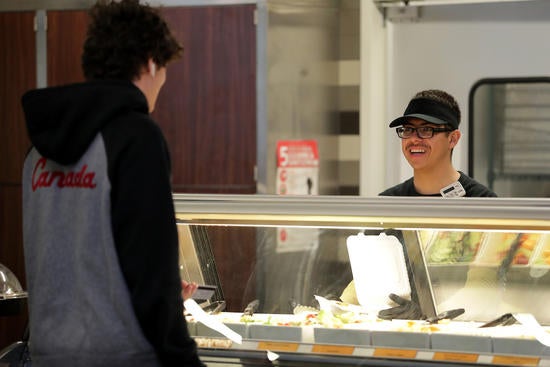 At Lothian, all the meals were provided in to-go containers that students could take to their rooms to eat — a change from the normal rules.
Students were let in a few at a time, lining up at the entrance hallway marked with tape to spread them out. 
The menu Thursday included slow-roasted turkey breast with gravy, Argentinian beef tri-tip, and soy barbecue chicken. Diners were allowed one of each item with dining staff members adding food to their containers instead of serving themselves.
Freshly squeezed orange juice was already poured into cups at a side table while chocolate chip cookies were placed in paper bags.
"We're just doing the best we can to give them that sense of comfort, to give our students a sense that everything's going to be OK," said Pamala Trimble, a Dining Services supervisor at Lothian.
She and other dining employees have received heartfelt thanks from students and their parents. Trimble said she was almost brought to tears by one student who was so grateful for their service.
Dining Services employees said they've rallied together and found the situation to be a bonding moment.
"I feel like it's an honor to provide an exceptional service to our students and diners during these foggy days," said Armando Melendez, operations manager at the Market at Glen Mor.