Ensuring that UC Riverside students, faculty, and staff members can access proper equipment and technology has been a key part of the campus' transition to remote learning and working.
Information Technology Solutions, or ITS, has been at the forefront of that effort by loaning laptops to students, purchasing over 4,200 Zoom licenses, and resolving thousands of ServiceLink tickets related to remote work issues. The department has also launched virtualized desktop infrastructure to make computer lab software available online, set up 10 multimedia recording rooms to assist faculty in recording their spring quarter courses, and increased storage space on the campus platform for hosting online courses.
"ITS has shifted its operational priorities to support remote working, teaching, and learning in response to the COVID-19 pandemic," said David Gracey, UCR's interim chief information officer. "During this unprecedented time, ensuring that our students and faculty have a reliable online learning environment, our students have access to the necessary technology, and our staff have the support and resources needed to continue core business operations remotely have become our top priorities." 
ITS employs some staff who remain on campus due to the on-site requirements of their job, such as network technicians and members of the Endpoint and Bear Help customer support teams who provide support to other on-site employees. The majority of ITS employees, however, are working from home.
The Loan2Learn program is one of the major efforts by ITS to help students make the transition to remote learning. It was created to meet the needs of students who typically use on-campus resources such as computer labs and laptop kiosks, said Alexandra Chrystal, manager of communication and training for ITS.
The department purchased 500 Chromebooks for students with financial hardships who don't have ready access to a working laptop. Students must apply for the program and meet eligibility requirements to qualify.
More than 400 student applications have been approved with 242 devices distributed as of last week. As the campus gets close to the 500 mark, it will place approved students on a waitlist as more devices are purchased, Chrystal said. The department has also provided other devices to support over 50 teaching assistants and approved 55 Wi-Fi hotspot devices for students in need of reliable internet.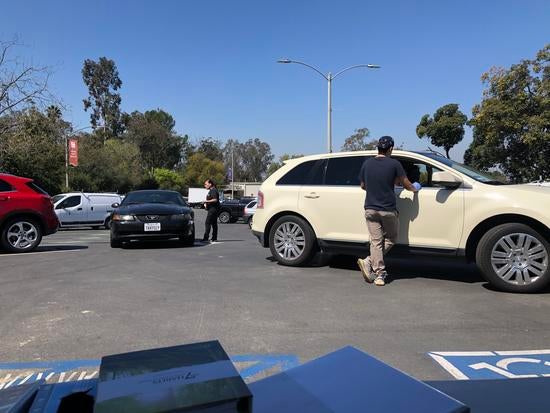 Students have the option of having the laptop shipped to their address, scheduling an appointment to pick it up at the ITS office, or picking it up at a weekly "drive-thru" service set up in parking Lot 9 the last few weeks.
For the pick-up or drive-thru options, staff members wear gloves and masks, sanitize the equipment, and observe appropriate social distancing protocol to keep a safe distance and minimize contact with others. Campus police are on hand to monitor pickups.
Other major efforts by ITS involved fast-tracking the creation of websites that provide information and resources to support remote working, teaching, and learning. ITS has also been working to ensure campus platforms that support remote teaching can handle the additional load, adding 8 terabytes of storage space to Mediasite, for example.
Finally, a new resource launched last week offers a virtual computer lab, or VLab, that can be readily accessed without having to download additional software. Software virtualization allows students and faculty members to use programs like Microsoft Office, ArcGIS, and RStudio by logging on to the Apporto online portal with their UCR NetID credentials. It provides a convenient and user-friendly way for students to perform coursework without needing a software license, owning a specific computer operating system, or taking up storage space on their hard drive with software downloads.