Some UC Riverside medical students are helping alleviate the shortage of personal protective equipment, or PPE, in inland Southern California by seeking donations from the community and delivering them to local hospitals. 
Nikita Kadakia, a third-year student in the School of Medicine, is the regional coordinator for Medical Supply Drive, or MedSupplyDrive, a nonprofit started by medical students at Georgetown University that has more than 700 volunteers across 42 states. Kadakia answered a few questions about her team's efforts.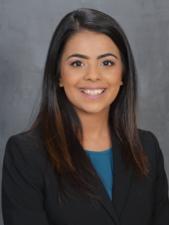 When did the volunteer effort in the UCR School of Medicine begin and how did it come about?
It was mid-March this year when my classmates and I learned we would be pulled from clinical duties in the wake of the COVID-19 pandemic. After experiencing PPE shortage firsthand on my clinical rotation that week, I learned about the MedSupplyDrive initiative started by medical students at Georgetown. I knew I wanted to be an active part of this initiative by extending it to the Inland Empire to help our local community of health care workers. It is imperative to redirect PPE to the hospitals to keep our hospital staff safe so they can continue their life-saving work of keeping patients healthy. It felt like the best way to help protect those on the front lines and give back to our community, especially the residents, attendings, and nurses that have always selflessly helped us learn and grow as medical students. I signed up as a regional coordinator on March 19 and started recruiting volunteers in the area. 
 
How many volunteers are on your team?
We currently have 15 active volunteers, including UCR medical students Anum Iqbal, Erica Li, Omar Abbas, Alvin Chan, Archana Reddy, Kashif Iqbal, Marlene Alfaro, Brandon Phong, John Dover, Amylee Martin, Jeni Grinceri; Loma Linda medical student Ana Jacinto; and premed students in the area Khwaja Ahmad, Ayah Elsamad, and Jaz Chahal.
 
Who can join the regional Medical Supply Drive and what is the process?
Any student interested in helping us mobilize supplies and get them to hospitals in need can volunteer. Volunteers can sign-up here. We accept all donations, big or small, because every box of PPE will help.
 
How many PPEs have you delivered to date?
 
With the help of our amazing group of medical student volunteers at the School of Medicine, we have been able to successfully bring and donate 30,100 surgical masks, 2,500 face shields, 9,400 gloves, and 197 goggles through our outreach and collaboration with Drs. Karen Tsai and Deyu Kong, founders of DonatePPE. These donations have been possible through generous donations by Ford Motors, Norwex, local colleges and businesses. We thank these donors and appreciate the efforts of those donating in our local community.
 
Where are the PPEs being delivered?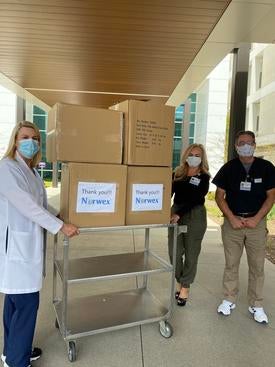 Currently, the PPEs are being delivered to seven hospitals in the Inland Empire: Riverside University Health System, Riverside Community Hospital, Loma Linda University Medical Center, Parkview Community Hospital, Redlands Community Hospital, St. Bernardine's Hospital, and Eisenhower Medical Center.
 
What have been some challenges and how have you overcome them?
The biggest challenge has been outreach. We have contacted almost all local businesses, including dental offices, tattoo parlors, hair salons, construction companies, and biotechnology companies to request PPE donations. We are overcoming these challenges by recruiting volunteers from other areas such as Pomona, Temecula, and Palm Desert to reach out to more companies. N95 donations have also been particularly challenging. Another way we have overcome these challenges is through partnering with organizations like DonatePPE and GetUsPPE that have graciously helped redirect large amounts of PPE from Los Angeles to the Inland Empire for our local hospitals.
 
Follow the efforts of MedSupplyDrive on Facebook, Instagram, and Twitter.