Scientists at the University of California, Riverside have been awarded a prestigious Extreme Science and Engineering Discovery Environment grant to use the Anton 2 supercomputer, known as "the world's fastest computer," to study the interactions of the SARS-CoV-2 virus's genetic material with the proteins behind the CRISPR gene-editing system. They hope to use this information to develop an experimental test for the virus, which causes COVID-19.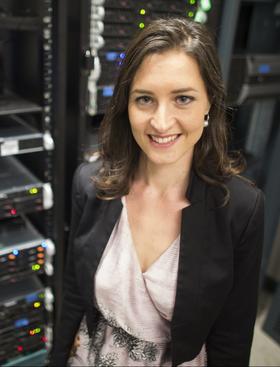 Doctors need better and faster tests for identifying SARS-CoV-2 in suspected patients. New versions of the CRISPR gene-editing system hold promise as the backbone for such a test. A group led by Giulia Palermo, an assistant professor of bioengineering in the Marlan and Rosemary Bourns College of Engineering, will use Anton 2 to study how the CRISPR-associated proteins recognize viral genetic material. 
Graduate student Aakash Saha and post-doctoral researchers Pablo R. Arantes and Łukasz Nierzwicki will perform the simulation studies, assisted by the rest of the lab members. The task requires microsecond-long simulations, which though fast by everyday standards are very long for supercomputers to simulate. Anton 2's specialized software and hardware are needed to see relatively slow changes in the molecules that are a bottleneck in the process of detecting viral genes.
The Extreme Science and Engineering Discovery Environment is a National Science Foundation-funded virtual organization that integrates and coordinates the sharing of advanced digital services, including supercomputers and high-end visualization and data analysis resources, with researchers nationally to support science.
Palermo's project is part of the COVID-19 High Performance Computing Consortium, a unique private-public effort spearheaded by the White House Office of Science and Technology Policy, the U.S. Department of Energy and IBM to bring together federal government, industry, and academic leaders who are volunteering free compute time and resources on their world-class machines.
Anton was developed by D. E. Shaw Research, or DESRES, to execute molecular dynamics simulations of biomolecules such as proteins, nucleic acids and lipids orders of magnitude faster than was previously possible. The Anton 2 at the Pittsburgh Supercomputing Center is provided without cost by DESRES for non-commercial use by the U.S. research community.