UC Riverside students took part in bootcamps, a pitch competition, and received mentoring from business professionals as part of the first year of the program known as Blackstone LaunchPad powered by Techstars.
The program, which had been offered at UCLA since 2014, expanded to all UC campuses in fall 2019. It offers tools and resources for budding entrepreneurs seeking to build their technical startup skills and create new businesses.
UCR activities included a speaker series, workshops, networking events, and one-on-one mentoring.
Its most intensive program was the Startup Bootcamp, offered in winter and spring quarters to between 15-20 students each session.
The five-week course, which was held in-person in winter and online in spring, included sessions on developing ideas, understanding legal mechanics, intellectual property, market research, branding, pitching, and using social media. 
 "The Blackstone LaunchPad powered by Techstars at UCR provides students across disciplines with access to mentorship, resources, funding, workshops, and networking events," said Mai Temraz, LaunchPad at UCR entrepreneur-in-residence. "Students interested in innovation, entrepreneurship, and venture creation have the opportunity to take their ideas from concept to commercialization."
In May, LaunchPad held a Social Innovation Pitching Competition in which 16 students submitted videos pitching their ideas to change the world. Participants received coaching from business mentors to hone their pitches with the top three winners receiving cash prizes between $250-$1,000.
Valtteri Salomaki '18, MBA '20, is among the students who benefited from the programs offered through LaunchPad. Last fall, he and Ethan Castro, a doctoral student in digital composition, co-founded Edge Sound Research, a startup developing audio systems for immersive entertainment companies that allows listeners to hear and feel in high definition.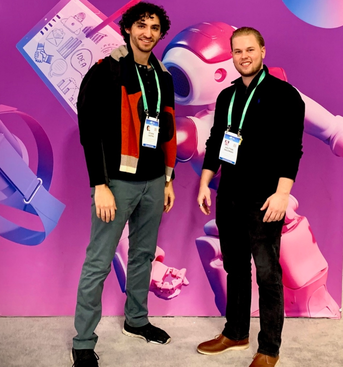 The company was one of six university startups selected to pitch at the TechStars University Pitch Competition, held in January at CES in Las Vegas, one of the largest technology trade fairs in the world, organized by the Consumer Technology Association.
Salomaki, who received his bachelor's degree in business administration from UCR in 2018 and graduated from UCR's School of Business in June with an MBA, was also selected this month for the LaunchPad Summer Startup Fellowship. He is one of 50 student entrepreneurs across the U.S. and Ireland who will receive a $5,000 grant to develop their business in the eight-week program and receive coaching from business professionals. 
"This eight-week program will be essential in the growth of EDGE Sound Research as I will have access to a new network of entrepreneurs, resources, and mentorship that will help my team reach our next major milestones," Salomaki said.
Over the past academic year, 1,000 students attended LaunchPad events or sponsored activities, 200 mentoring sessions were held, and 15 student-led ventures were created.
The program will offer an alumni speaker series and a webinar series on developing entrepreneurial skills this summer. More programs are planned for the fall including one focusing on collaboration with the Bioengineering Department at the Marlan and Rosemary Bourns College of Engineering.
The Office of Technology Partnership, or OTP, launched the Launchpad @ UCR program to cultivate and support the student entrepreneurial spirit by providing one-to-one mentorship, training, and access to the TechStars network and funding opportunities.
Reporting to the vice chancellor for Research and Economic Development, the OTP catalyzes the translation of university research and discoveries to the private sector and provides opportunities for faculty members, students, and community at large to explore entrepreneurial endeavors.