The UC Riverside School of Business MBA program has received STEM designation from the Department of Homeland Security, tripling the amount of time its international students will be able to work in the United States after graduation.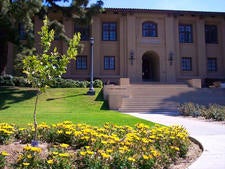 By enrolling in optional professional training, or OPT, international students can work in the U.S. for one year after graduation. Since 2016, the Department of Homeland Security has allowed international graduates of certain science, technology, engineering, and mathematics programs to work for an additional two years through a program called STEM OPT, designed to help fill gaps in the labor force.
Business degrees that emphasize or are highly useful in STEM industries include accounting, business analytics, decision theory, finance, economics, information technology, law, marketing, management, statistics, and strategy. Many schools have also launched MBA degrees specifically geared toward management and leadership in STEM enterprises. These MBA programs can apply for STEM MBA designation, making their international graduates eligible to enroll in STEM OPT and work in the U.S. for three years after graduation.
"The graduate programs at UCR School of Business have always focused on utilizing scientific methods and data to support the practices and theories within the fields of business. Therefore, attaining the STEM certification was not a challenge for the School of Business, but rather a testament to the rigorous curriculum of our program," said Yunzeng Wang, dean of UC Riverside's School of Business, home of the A. Gary Anderson Graduate School of Management. 
 
UC Riverside's School of Business received STEM designation for all its graduate programs this spring. UC Riverside offers a general MBA, Professional MBA, Master of Finance, and Master of Professional Accountancy degrees.
"I chose UC Riverside for my MBA over a more traditional STEM degree because it was the career path I wanted to pursue at a well-respected and highly ranked university," said second-year MBA student Amisha Sharma. "The new STEM designation for the UCR MBA program is like icing on a cake. It allows me to gain more practical experience in my field of marketing as part of my educational journey."