The UC Riverside Alumni Association is offering a new way for students to connect with alumni and receive career advice.
The UCR Career Network, launched this fall, is an online platform where students and alumni can search for profiles and network with those holding common career interests. The platform is powered by PeopleGrove, a software company that creates specialized career networking communities.
The platform was tested by a small group of students and alumni on a trial basis before being made available this week to all alumni, students, faculty, and staff members, said Brock Cavett, director of Young Alumni Engagement.
The UCR Career Center and Office of Alumni Engagement already offer networking opportunities through workshops, career fairs, and online job boards, but the new platform offers an easier way to connect directly, Cavett said.
Alumni and student profiles are already loaded onto the platform, but users have to go online to claim their profile before it is searchable in the system. This is done to ensure that every person on the platform has a connection to UCR. Once they do so, they can add biographical information such as what field they work in or what they are studying. Users can connect through messaging and video conferencing.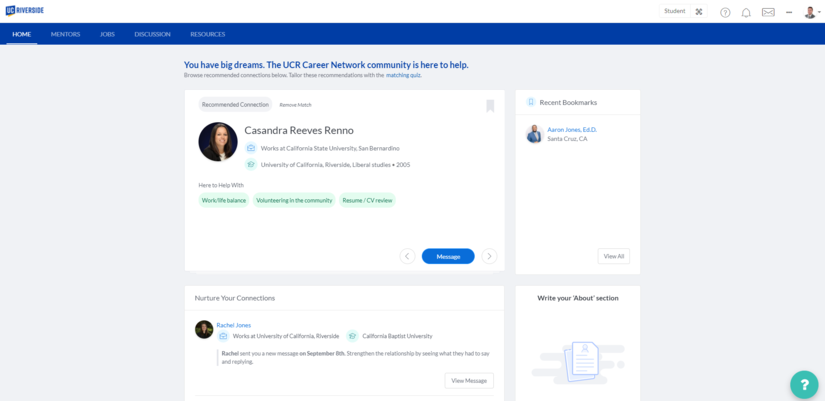 "It will provide a great opportunity for students and recent graduates to find mentors in their potential career fields at their own pace," Cavett said.
He expects more alumni will be able to increase their involvement, noting many have expressed an interest in engaging with students and serving as mentors.
Megan Vu, a third-year business administration student, was among 25 students testing the platform. She read through alumni profiles and reached out to some alumni with similar career paths, emailing them questions or chatting via video.
"I have been able to connect with a few alumni and they were able to provide great advice," Vu said. "It is helping me learn more about my career goals but more importantly, giving me insight into things that I have not been exposed to in the past."
Vu said she likes that students and alumni are better able to find shared experiences through the platform, which makes it easier to connect.
Aaron Jones '09, M.Ed. '13, a member of the UCR Alumni Association Board of Directors, said that focus makes it a more useful tool for students and alumni. As director of educational opportunity programs at UC Santa Cruz, Jones has also been among those testing the site. His profile includes not only his current job, but his background at UCR, such as his involvement with student government. That kind of specificity allows for students to better find those with matching interests, he said.
For students looking for job opportunities during the pandemic, when many career fairs are no longer being held, it is important that alumni do what they can to assist, Jones said.
"People are getting hit pretty hard, and it's very difficult to see who's hiring," he said. "If an alumnus has that opportunity, it has a potential to do some good."