As a UC Riverside admissions recruiter, Dominique Beale has been a point person for Black students considering whether or not to enroll at the university. Beale is now taking that perspective to a larger audience with a podcast that shines a spotlight on Black voices on campus.
Launched in September, "Blue, Gold & Black" features Beale engaging in wide-ranging conversations with Black campus leaders and faculty members. The debut episode featured Brian Haynes, vice chancellor of Student Affairs. Other guests so far include Tamica Smith Jones, director of athletics; Denise Woods, assistant vice chancellor of Health, Counseling & Wellness; and Jamal Myrick, director of African Student Programs.
The episodes are available on streaming platforms including Apple, Spotify, and YouTube, which features video recordings of the conversations.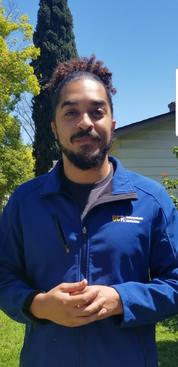 Beale said he was motivated to start the podcast due to the social unrest over the last several months, which has brought a greater focus on racism. The coronavirus pandemic also inspired him to use the podcast format as another way to reach current and potential students.
"I wanted to come up with a new and unique way to share information and resources with prospective Black students while also giving them and the UCR community an inside look at the vibrant Black community we have here on campus," he said.
During each interview, which are typically 45 minutes long, Beale asks his guests about their upbringing, the paths that led them to higher education, and the work they do at UCR.
An important theme in the conversations is the role of mentorship in each subject's life. Beale said everyone he has spoken to mentions the important influence one or more persons played in helping them along the way.
He described the podcast as an extension of his work in Undergraduate Admissions' Community Engagement and Outreach unit focusing primarily on the recruitment and retention of African American and African diaspora students as well as those with a Native American and Middle Eastern background.
"We can show our students and our community partners that while there may be a small Black community on campus, it's very strong, very vibrant, and it's very diverse," Beale said. "We're all in different sectors across the university. These people care about students and are doing great work."
The podcast helps spotlight how the Black experience isn't monolithic and that the guests have varied backgrounds, he said. The guests share a love for UCR, but Beale describes it as a tough love that includes frank conversations on how it can improve to become a more equitable place. 
He hopes the conversations will empower students seeking more information about resources on campus while creating connections among members of the campus community. He also sees it as a way for listeners to learn how they can become more engaged with UCR's Black community and become more involved with issues of justice and equity.
The podcast is Beale's first foray into interviewing. He listed podcasters Phillipe Matthews, Rock Newman, and Joe Budden as favorites. 
"I like the way that they communicate with their audience," he said. "They are themselves. They're able to communicate and voice their opinions and viewpoints and carry out a message."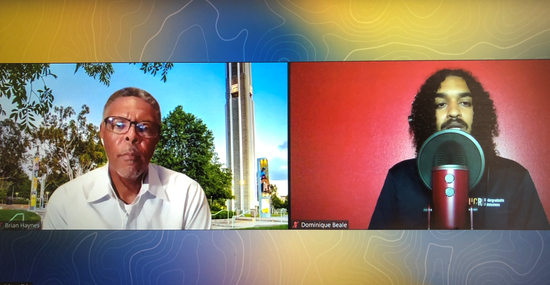 Beale worked with the marketing team in his department and Student Affairs, who helped provide him with a simple toolkit for producing a podcast and getting it placed on different streaming platforms. The interviews are done via Zoom and recorded on video and a separate higher-quality audio system.
Beale began recording the episodes in July before posting the first one in September. He has more than 15 completed and estimated that he'll be able to post a new one biweekly for the next six months.
He said he's already gotten positive reactions as word of mouth builds. Some have suggested future guests while others have described learning new aspects about their colleagues. Beale said he plans to include more student voices in future episodes and will continue to keep producing culturally relevant content.
"As long as there's a Black community on campus, I can continue to engage and have different conversations," he said.
Find out more how to listen to Blue, Gold & Black here.