Over a 27-year career, Isabel Studer has worked as a researcher, in government, and as the head of environmental advocacy groups. As the new director of Alianza UCMX, she's in a position where all those worlds intersect.
"I realized that it looked like my whole career was meant for me to be prepared to be taking on this role," said Studer, who began her new job on Oct. 1.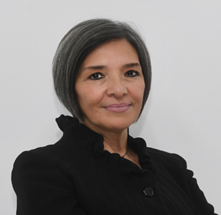 UC Riverside is the host campus for Alianza UCMX, which fosters strategic alliances between the UC system and counterparts in Mexico. Those partners include universities, government, industry, and communities on both sides of the border.
Alianza UCMX was formed in 2019, combining three preexisting UC systemwide programs: the UC Institute for Mexico and the United States, known as UC MEXUS; the UC-Mexico Initiative; and Casa de la Universidad de California en Mexico, or Casa de California. 
Studer has extensive experience in international relations, particularly North American labor, trade, and environmental issues. She's also written on those issues as an author and co-editor of several books.
Studer most recently served as founding director of Sostenibilidad Global, a nonprofit focused on raising awareness and mobilizing action on climate change. Prior to that, she worked at a nonprofit called The Nature Conservancy as executive director and director for Mexico and Northern Central America and for strategic partnerships in Latin America.
She has held positions in the Mexican government, including general director of International Economic Cooperation at the Mexican Agency for International Development Cooperation, and director general for Canada at the Ministry of Foreign Affairs.
A Fulbright and Ford Foundation scholar, Studer has taught and researched international relations at U.S. and Mexican universities and institutions. She founded the Global Institute for Sustainability at Monterrey Institute of Technology and Higher Education, where she also founded and headed the Center for Dialogue and Analysis on North America.
Studer was attracted to the position at Alianza because of its unique role in building partnerships with Mexico, particularly between researchers but also business and policy makers.
"If there is one university that can actually help address the many challenges we face in the bilateral relationship between California and Mexico, I think it's the University of California," she said.
Studer sees opportunities particularly on climate change and sustainability issues, noting California has been a leader on that front with innovative solutions. Agriculture, water, and public health are other areas of potential collaboration, she said. 
About 500 UC professors are already working on different issues with Mexico.
"That in of itself tells you there's a wealth of knowledge, contacts, and capital we can tap into in terms of taking Alianza to the next step in terms of the academic collaboration with Mexico," she said.
As host campus, UCR provides a model for policies that increase social mobility and promote diversity, Studer said.
"UCR from that perspective is the perfect context to launch an initiative like Alianza that is actually betting on social inclusion and workforce development as a key element for prosperity," she said.