When the pandemic shut down in-person activities, UC Riverside's Recreation Department moved its youth and recreation programming online. In the months since, department leaders say they have hit their stride in virtual programming.
The department offers youth camps and programming for pre-teens and teenagers. Shifting those online was challenging as counselors learned what worked best in a virtual environment, said Carl Dugdale, youth program coordinator.
"It's definitely more targeted now," Dugdale said. "We definitely found our footing."
Last year for its annual Camp Highlander, which normally offers outdoor activities, counselors offered online courses in subjects such as baking, American Sign Language, and coding. Aquatics instructors provided customized swimming lessons for kids with home pools and began a pen-pal program.
The Recreation Department has decided to skip its usual summer session for Camp Highlander and plan for the fall, when in-person activities can resume.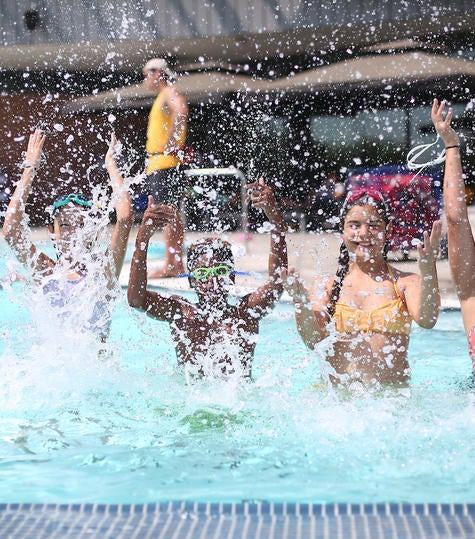 Meanwhile, the department has found success with interactive online programs in three areas: astronomy, neuroscience, and dance squad. About a dozen UCR student volunteers and staff members serve as instructors.
For the Dance Squad classes, instructor Emily Thomas keeps kids energized by blending dance with games, chats, and other activities, Dugdale said.
The astronomy sessions have been among the most popular, featuring interactive software and activities.
For example, one session involved the illustration of a 3D model of the solar system using software. Another exercise involved students creating their own simulations of exoplanets, said Xinnan Du, an outreach director and postdoctoral scholar in astronomy who has overseen the astronomy sessions.
The astronomy nights began with about 35 registered participants in summer 2020, but for the spring session that has grown to 257. A YouTube livestream was created in addition to the Zoom sessions.
"One overarching goal of ours is to have the community stay together during these difficult times and to feature some fascinating ideas and concepts in astronomy in the curriculum," said Du, who is joined by graduate student instructors at the classes. "It also provides the participants with an opportunity to talk to experts and students in the field."
As part of the move to virtual, Dugdale said the audience has expanded beyond Riverside, with some participants joining from as far as the East Coast.
As a parent himself, Dugdale said he wanted to provide parents a safe and engaging space for their children while also giving them a break a few hours a week.
"We wanted to support campus, families, and the further-away communities, particularly with the stress families have been going through with school and life in general," he said.