All UCR students and faculty can now access high-resolution satellite images of the entire planet thanks to a license granted to the Artificial Intelligence for Sustainable Agriculture, or AI4SA, project.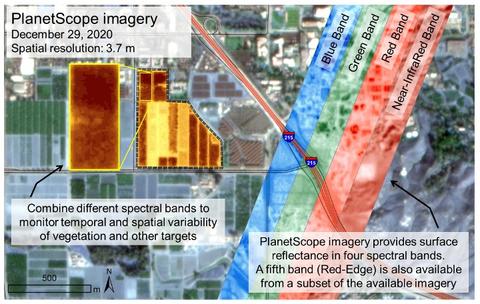 These images come from the appropriately named Planet Labs Inc., whose mission is to use space to help life on Earth. The company accomplishes this with 200-plus satellites that monitor Earth's landmass on a daily basis. The images range in spatial resolution from approximately 10 to 16 feet, and archived images are also available dating back to 2009. 
"I'm so pleased to invite the UCR community to use this imagery for research and education activities," said Elia Scudiero, a professional researcher in UCR's Department of Environmental Sciences, and principal investigator of AI4SA. "Our project's license gives faculty, researchers, educators, staff, and students the ability to benefit from this imagery."
The full name of A14SA, which is funded by the Department of Agriculture's National Institute of Food and Agriculture, is "Artificial Intelligence for Sustainable Water, Nutrient, Salinity, And Pest Management in The Western U.S." The project is working to improve the sustainability of irrigated agriculture in California and the U.S. Southwest. This region suffers from major droughts, weed, pathogen, and insect invasions as well as excessive salt and chemical content in the soil. 
The research team is using the PlanetScope and RapidEye satellites to understand the scope of these threats and develop solutions to combat them. RapidEye satellites were the first commercial satellites to include the red-edge band of light, which is sensitive to changes in chlorophyll content in plants. The images can also help measure protein and nitrogen content in living things and gives researchers information about the health of crops.
The AI4SA team is also using the data to train undergraduate students via the Digital Agriculture Fellowship. 
Several pilot users on campus, external to the AI4SA team, are already accessing the imagery for a wide range of purposes. These include archaeology, geomorphology projects looking for differences in land mass before and after earthquakes, three-dimensional urban landscape projects, and more.
"This dataset is an excellent and rich source of real data that would be of tremendous value for data science applications that require details and curated real data," said Ahmed Eldawy, a professor in UCR's Computer Science & Engineering Department, and an AI4SA investigator. 
"The planet imagery dataset spans the entire world over multiple years with high spatial and temporal granularity and can empower various data science projects."
If planet images could help your project, you'll need to apply for a user account, but Scudiero says any project will be approved. All that's required is an active UCR email address. To request access, please visit the website.