UC Riverside is expanding its collection of outdoor art with a new series of sculptures by female artists.
The four sculptures, each in different mediums and styles, were installed starting in December with the final piece added last month. Two pieces were created for this project while the other two were previously displayed elsewhere.
The project was initiated by the Advisory Committee on Campus Art with a private donor providing funding. 
Following up on the Arts Walk installation that was completed in February 2020, the new sculptures are intended to increase outdoor art available as one strolls about the campus.
The four pieces were placed on concrete bases in lawn areas near Olmsted Hall, Watkins Hall, Orbach Library, and between Olmsted and the Psychology Building.
Corrina Peipon, an independent art curator who oversaw the installations, said she wanted to utilize the beautiful garden nooks on the campus and provide moments where students and employees can take a visual pause.
The artists are all women from different backgrounds, including one born in Riverside. Each one visited the campus as part of the project.
"The sculptures are all part of a conversation in contemporary art," Peipon said. "They're all very different aesthetics. I really wanted artists whose work would fit within the campus context but would respond specifically to each site in a harmonious way."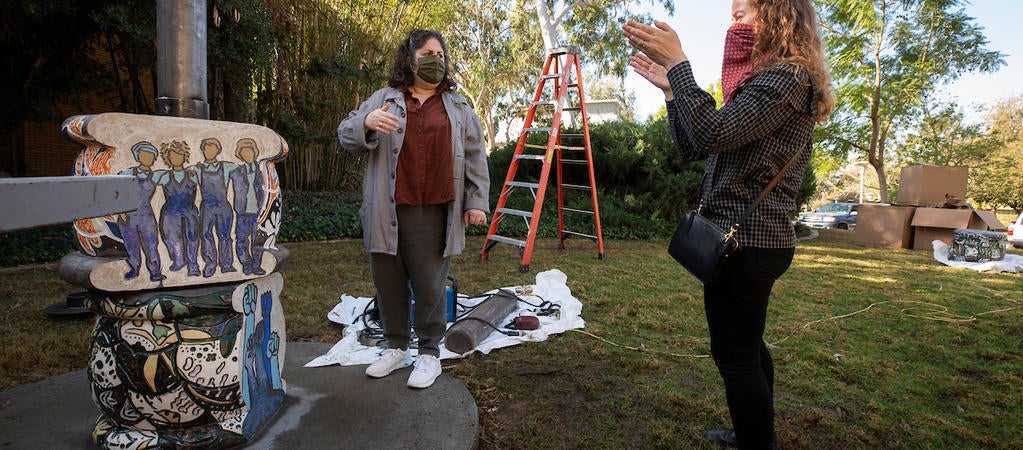 Los Angeles artist Bari Ziperstein, who taught a sculpture class in the UCR Art Department from 2010-14, said the chance to contribute to the campus was like coming full circle.
"UCR gave me a chance to exercise my ideas as a teacher," she said. "I'm really honored."
Her 8-foot-tall piece, titled Stages for Flowers, is an original created for the campus and the largest sculpture she's made.
Ziperstein designed a hand-carved and painted ceramic sculpture with images and patterns inspired by Russian textiles. The white, blue, and orange sculpture is made up of four pieces, each weighing 100 pounds, which was welded to a steel pole in a small lawn area next to Olmsted Hall.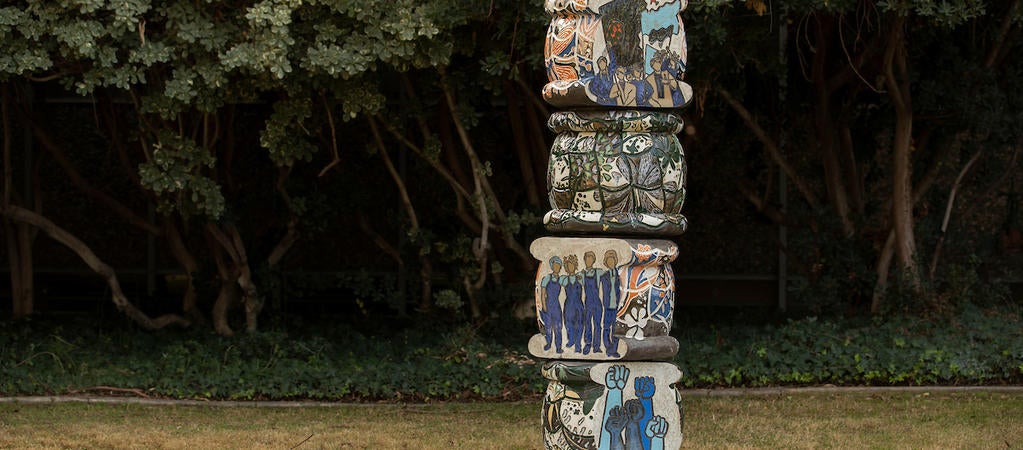 Between Olmsted and the Psychology building is a piece titled Mystery Achievement by Anna Sew Hoy, a sculptor and assistant professor at UCLA. Designed specifically for the campus, it features two clay orbs and a steel piece with hoops on cinder blocks.
"Simple geometries are present throughout the piece, becoming an abstract language of shape and space relationships," Hoy said. "I invite the viewer's multiple associations, yet don't allow a fixed meaning to any piece, so that my work is always about transformation and possibility. The phrase "Mystery Achievement" playfully tugs at the viewer's assumptions on what an achievement is at the site where high-achievers congregate."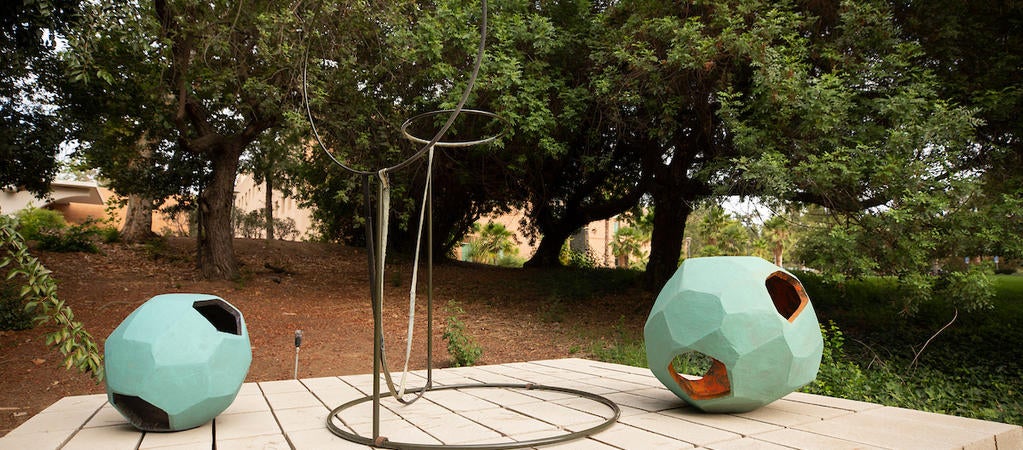 Outside Watkins is a piece by Los Angeles-based artist Brenna Youngblood, who was born in Riverside. Called MIA, the sculpture is a 1,700-pound bronze piece in which the three letters of the title sit insidea grid shape that resembles a jungle gym.
The sculpture is part of a series by Youngblood that explore language and identity by Youngblood. The letters symbolize multiple meanings beyond the commonly known missing in action.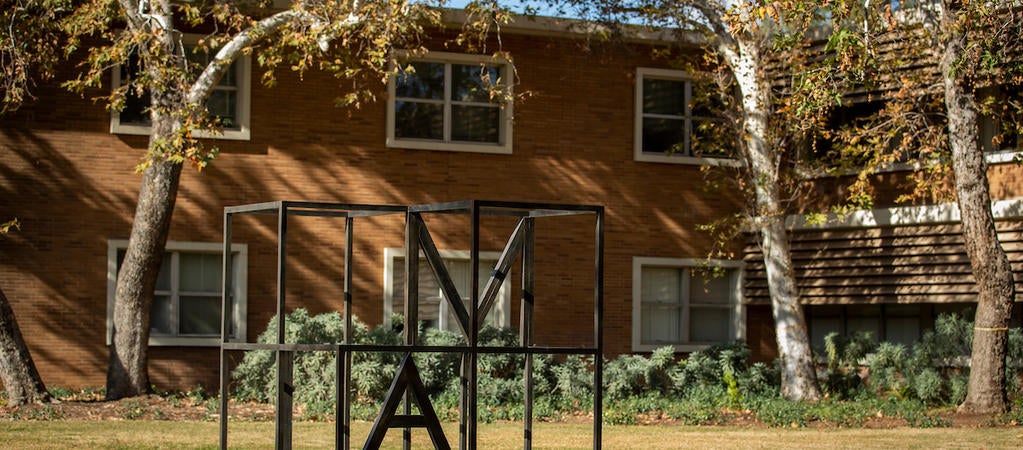 The final sculpture by Los Angeles artist Sarah McMenimen is Totem I, located in front of Orbach Library. It consists of an abstract figure made of welded aluminum, and thermoplastic in the shapes of seashells.
Emily Rankin, assistant vice chancellor for development and a member of the Advisory Committee on Campus Art, said the campus plans to bring in different artists and sculptures on a rotating basis, replacing some of the pieces that are on loan.
"We have a campus that has a very storied land and storied students," Rankin said. "I think bringing work from different perspectives and shows such as this allow us to bring the external world to campus."