As students and employees begin returning to campus this fall, UC Riverside's Transportation and Parking Services is offering a guide to parking.
The campus community will see some changes, such as a new parking structure and a switch from hang-tag parking permits to digital license plate recognition. The department is also offering permit options to meet the different needs of employees.
Here's what to expect:
Permit options
Quarterly or annual parking permits for faculty, staff members, and graduate students can be purchased at the Transportation and Parking Services, or TAPS, building at 683 W. Linden St. or by phone at (951) 827-8277.
Anyone with an assigned blue or red parking lot permit prior to the campus closure in March 2020 will be given the same lot assignment if a permit is purchased before January 2022. To receive the same lot assignment, permits must be purchased directly from TAPS.
The department will attempt to accommodate everyone's parking preferences.
Permits are also available for purchase on an hourly, daily, weekly, or monthly schedule. Hourly and daily permits can be purchased through the ParkMobile app. Daily, weekly, and monthly permits are available through parking lot vending machines. 
Rates vary depending on the permit type and can be found online.
10-pack permit
A 10-pack of one-day permits for blue lots can be purchased at the TAPS building or by phone for those not commuting to campus regularly. 
The permits are not lot-specific. Permit holders must go online and reserve a space from a list of available lots up to three days in advance. Space availability may change each day based on demand.
All 10-pack permits will expire on June 30, 2022. No refunds will be issued for unused days.
Student parking
Different parking permit options are available to undergraduate students, depending on whether they are commuters or residents. Availability is limited.
For incoming freshmen, more information is available here.
Information on campus apartments and residence hall parking is available here.
License plate recognition
On June 30, campus hang-tag permits expired. On July 1, Transportation Services switched from physical permits to license plate recognition technology. That means physical permits are no longer needed. Permits are linked to each purchaser's license plate number.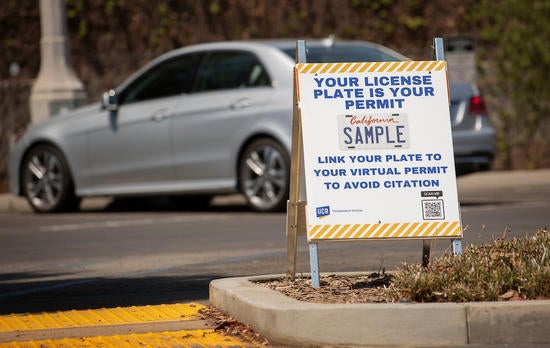 The vehicle year, make, model, color, state, and license plate number must be provided when purchasing a permit. Up to five vehicles can be registered to a permit but only one can be parked on campus on any single day.
Parking enforcement vehicles are equipped with cameras on each side that will allow them to quickly scan license plates and verify them through a database. 
New parking structure
The new Big Springs Parking Structure 2 opened this summer and is available to blue Lot 13 permit holders.  The new structure, on Big Springs Road at the east end of campus, offers over 1,200 covered parking spaces and is equipped with security cameras and Wi-Fi.  
There are 93 Level 1 electric vehicle, or EV, charging spaces on the first floor of the structure.  These EV spaces are only available to those who purchase a Blue EV Level 1 charging permit, which is an additional $15 a month in addition to the cost of the blue permit. Users must bring their own charging cord and are allowed to plug in and park if they are actively charging.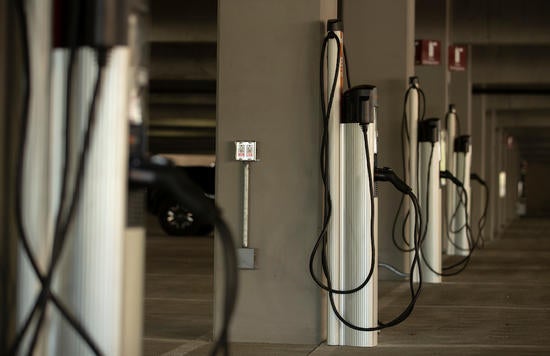 Alternative transportation
With parking demand remaining high, the department is encouraging commuters to explore other transportation options and to consider sustainable methods when possible. Faculty, staff, and grad students who rideshare, including teleworkers, can register for the R'Commute Program and receive one free 10-pack of parking permits per quarter to use on days they need to drive to campus.
Alternative options include:
•    Riverside Transit Agency UPASS – Faculty, staff, and grad students can register for a free bus pass, good on all fixed-routes for unlimited travel including weekends. The bus service offers four direct routes to campus.
•    Metrolink – The Southern California regional rail service has direct bus transfers to campus from its downtown Riverside station.
•    Vanpool – UCR partners with Commute with Enterprise to provide vanpool services to commuters living at least 15 miles from campus.
•    Biking – Bicyclists can register and license their bike for free at Transportation Services. The campus has over 3,000 bike rack space plus free self-service fix-it stations for do-it-yourself repairs.
•    Carpool matching – Faculty, staff, and grad students can register with IE Commuter to find a carpool partner.  Carpoolers may qualify for Riverside County-funded incentives and programs. Undergrads are encouraged to use Waze Carpool to find other students with whom to share a ride.
•    Zipcar –Rent cars by the hour or day with a Zipcar membership through the car-sharing service. Rental fees cover the cost of gas, insurance, and mileage up to 180 miles per day.
For more details about parking and alternative transportation options, visit the Transportation Services website or call (951) 827-8277.